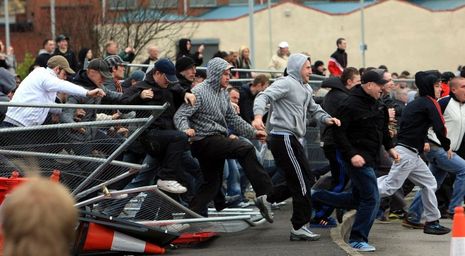 Telford & Wrekin Council has called for the planned English Defence League march in Wellington on Saturday to be cancelled.
Council leader Kuldip Sahota said: "The overwhelming voice from the community in Telford – and in particular in Wellington – is that people do not want this march in our town. The council believes the march should not go ahead. We are in an environment now where there has been widespread violence elsewhere and we simply feel they should cancel the march.
"We do understand and appreciate the very difficult position that the police are in but as community leaders we have a duty to listen to our residents and protect their properties and businesses. It is therefore our belief that the march should be cancelled."
Assistant Chief Constable Simon Chesterman, of West Mercia Police, said:
"The police overall strategic intention is 'To work with Telford & Wrekin Council, other agencies, protest organisers and communities to ensure public safety including the safety of those people attending any protest and the football match'. The police have a duty to protect life and property and facilitate peaceful protest.
"Legal powers to seek a banning order are set out in the Public Order Act and any application for a ban would have to be within the confines of the legislation. There are insufficient grounds upon which to seek a banning order at this time."
A number of business in Wellington are set to close at lunchtime on Saturday before the start of the march. Several have also taken the decision to board up their shop fronts. Frozen food retailer Iceland said their Wellington store would stop selling alcohol on Friday until after the march.
Shropshire Live, 10 August 2011
---
West Mercia Police have stated that they will impose restrictions on the EDL march under Section 12 of the Public Order Act. But Section 13 allows for the police to apply for a complete ban if "the powers under section 12 will not be sufficient to prevent the holding of public processions … resulting in serious public disorder".
Presumably the police are arguing that there is no threat of serious public disorder. Yet the fact that shops are boarding up their windows and closing down in advance of the EDL march is surely a good indication that it does pose such a threat.
According to Nick Lowles of Searchlight, the police are even unwilling to apply for a ban on the EDL march in Tower Hamlets on 3 September.