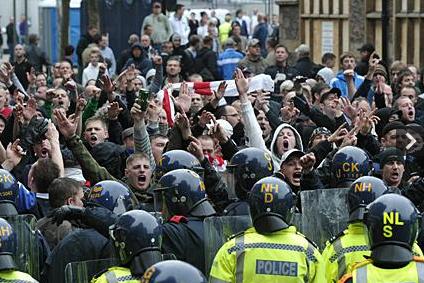 The Home Secretary Theresa May has this morning banned tomorrow's planned marches in Wellington in a move that has been welcomed by Telford & Wrekin Council.
The Council had written to the Home Secretary Theresa May requesting the EDL march be banned following a recommendation by West Mercia Police. This request was made under Section 13 of the Public Order Act 1986.
The decision means that all marches including a planned counter Unity march will be banned from taking place in Telford and Wrekin. It is however expected that the English Defence League will still carry out a static demonstration in Wellington tomorrow, which West Mercia Police has decided will take place in Church Street.
Councillor Shaun Davies, cabinet member for Community Cohesion, said: "We welcome the fact that the Home Secretary has approved our request for the marches to be banned. However, there will still be a significant multi-agency operation in Wellington tomorrow in anticipation of a static protest. Telford & Wrekin Council and West Mercia Police have worked very closely over the past few weeks to develop a comprehensive plan for before, during and after the event.
"People can be reassured that both organisations have the resources available and the experience to deal with any incidents on the day. We have also worked very closely with local residents and the business community in Wellington and we would like to thank them for their support. Telford & Wrekin Council has always said that it does not want this to take place in the borough."
Chief Inspector Keith Gee of West Mercia Police said: "Even though the Home Secretary has given her consent it does not prevent any static assemblies taking place, which are still lawful provided they remain peaceful, and we have no legal powers to prevent them. We shall do everything possible to ensure that any assembly on Saturday remains peaceful and poses the least amount of disruption possible for those not involved in the assembly."
Shropshire Live, 12 August 2011
See also Independent, 12 August 2011
---
The usual objection from anti-fascists to bans on EDL marches is that the police escort them from their assembly point to the place where they are holding their static protest, so the EDL get to have a march anyway. I admit to unfamiliarity with the topography of Telford, and have had to resort to google maps, but it appears that the EDL coaches will park in Ten Tree Croft car park and then the demonstrators will cross over into Church Street where they will hold their rally (in the park, presumably). If so, it won't be much of a march. And they will be kept north of the railway line, outside the town centre.