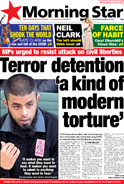 Terror detention 'a kind of modern torture'
By Tom Mellen
Morning Star, 8 November 2007
TWO innocent brothers who were locked up for a week under anti-terror laws urged MPs to resist the attack on civil liberties on Wednesday. In a passionate appeal to backbenchers, they described government plans to double the amount of time suspects can be detained as amounting to "modernised torture."
Mohammed Abdul Kahar, who was shot in the chest during the infamous Forest Gate raid in June last year, urged MPs not to back plans to extend the maximum amount of time that terror suspects can be held from 28 to 58 days. Giving evidence to the home affairs select committee, Mr Kahar told them: "If you give the police more time, they do everything slower. It is just prolonging the time, it's more modernised torture," he warned.
His brother Abul Koyair said of his seven days of questioning in Paddington Green high-security police station in west London: "It makes you want to admit to anything they want to hear."
Mr Kahar said that he did not regard Britain differently after his experiences but he had lost faith in the police. "The police have a difficult job, but they are putting innocent people's lives at risk. It's not only Muslims," Mr Kahar said, noting that Jean Charles de Menezes wasn't a Muslim. The threat is not only to Muslims – it's a threat to the whole public."
Mr Kahar warned that, "if I wasn't as strong as I was, I could have been turned against this country. I have so much hatred towards the system, someone else could have used it in a bad way."
Campaign Against Criminalising Communities national co-ordinator against anti-terror powers Saleh Mamon said that Mr Kahar "is expressing a legitimate view, given the psychological pressure and intimidation that he was subjected to." Noting that "the right to a fair trial is a fundamental principle that should not be tinkered with," he stressed that it is "vital that people lobby their MPs and participate in the debate before it is too late."
Human rights group Liberty director Shami Chakrabarti emphasised that "there is still not a shred of evidence for extending the longest period of pre-charge detention in the West. In the face of genuine constructive alternatives, extension would smack of political posturing. Britain needs yet another counterproductive terror law like it needs a hole in the head," Ms Chakrabarti declared.
Labour MP Bob Marshall-Andrews agreed, noting that ministers have not given "a single example, not one" to show why there was a need to go beyond 28 days. "We should not give away these liberties unless we are absolutely certain that it is necessary," Mr Marshall-Andrews insisted.
In a bid for compromise, ministers have promised extra judicial and parliamentary oversight of any extension and have also signalled support for the idea of post-charge questioning.
But barrister Ali Naseem Bajwa, who specialises in terror charges, said that he did not believe that the measure would be effective. "After charge, a suspect has very little to gain by commenting," he said, adding: "He has already been labelled a terrorist – he might as well save it for the jury."
Former joint intelligence committee chairman Lady Pauline Neville-Jones said: "We're the only democracy in the whole world that has gone as far as a month. Do we really want to go for a generation or two generations, possibly, because everybody understands this is going to be a very long haul against terrorism, extending the periods of detention relating to the whole of the population?" Ms Neville-Jones asked.