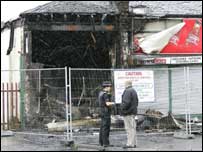 Since the failed terrorist attack on Glasgow airport, Strathclyde police have had to deal with more than 200 racial incidents, many of them carried out as reprisals on innocent members of the Muslim community.
Verbal and physical assaults, along with damage to property ranging from graffiti to a vehicle being driven into a shop belonging to Asians and set on fire, have been reported across the city.
Just over 10 racially motivated crimes per day, on average, have been recorded since the airport bomb attack compared with a daily average of less than seven racist incidents during April, May and June.
'I am concerned about the rise in the number of racist incidents,' said John Neilson, Strathclyde's assistant chief constable. 'However, I am also encouraged at the number of victims who have come forward and reported their experiences to the police.'
See also "Attacks on Muslims increase in Strathclyde after airport attack", Independent, 23 July 2007