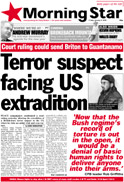 Peace campaigners condemned a court ruling yesterday allowing the extradition of a British-born terror suspect to the US, where he risks an unfair trial and even torture.
District Judge Timothy Workman ruled at Bow Street magistrates court that Yorkshire-born Haroon Rashid Aswat, who is accused of trying to set up al-Qaida training camps in the state of Oregon between 1999 and 2000, can be extradited to the US.
Home Secretary Charles Clarke has up to two months to approve the extradition of Mr Aswat, who denies the charges. His lawyers have expressed grave concern that he could end up in the notorious Guantánamo Bay detention centre if extradited.
Socialist Campaign Group of Labour MPs chairman John McDonnell said that he was "appalled" by the court's decision and agreed that "no-one can be sure that this British-born man will receive a fair trial in the US."
Morning Star, 6 January 2006