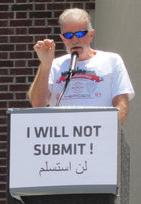 Terry Jones, the Quran-burning controversial Florida pastor, called this afternoon for the United States to stop allowing Muslims to immigrate into the country.
In brief remarks witnessed by only a few people at the Dearborn City Hall, Jones also advocated the government regularly monitor mosques to make sure they are not a place of "propaganda of Islam."
"Sharia must be banned in America," Jones said, referring to the religious law practiced by some Muslims in other countries.
Jones spoke for about 20 minutes before a crowd of about 50. Many were protesters from the group By Any Means Necessary (BAMN), which has dogged Jones during his repeated trips to the area. Numerous media also were attending the event, which drew the attention of about two dozen police officers. Muslims were noticeably absent from the crowd.
Jones, wearing a bulletproof vest, was returning after his attempt to protest in from of the Islamic Center of America in Dearborn in April was aborted by a court fight that resulted in his jailing after he refused to pay a $1 "peace bond" to the court.
Opposing Jones were protesters from BAMN who chanted "Hey, hey, ho, ho, Terry Jones has got to go" and carried signs, including some saying, "Honk against anti-Muslim Bigotry" and "Stop Terry Jones, Defend the Arab International Festival."
Jones, who has said he will not burn a Quran while here, also plans to speak at the 16th annual Dearborn Arab International Festival.
Jones, the 59-year-old pastor of the Dove World Outreach Center in Gainesville, Fla., is expected to be joined by Christian missionaries who have attended the festival in the past as part of their efforts to convert Muslims to Christianity.
See also Jeff T. Wattrick, "Anti-Islamic pastor Terry Jones calls for ban on Islamic immigration, claims free speech violates his free speech", MLive.com, 17 June 2011
Update:  See "6 Arrested as mob rushes Terry Jones at Arab Festival in Dearborn", Dearborn Patch, 17 June 2011