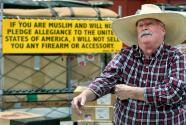 On a YouTube clip that has gone viral, brash Texas handgun instructor Crockett Keller defiantly tells Muslims and non-Christian Arabs he won't teach them how to handle a firearm. State officials see the ad as possible discrimination, and may revoke Keller's instructor license.
Tens of thousands of YouTube viewers have watched the $175 ad for Keller's business in the small community of Mason, which has won him a handful of admirers but that embarrassed locals say misrepresents their community. Muslim groups dismissed the 65-year-old as a bigot.
Among the couple of thousand residents in the Central Texas town, Keller has other reputations. "He's a character and likes attention," said Diane Eames, a jeweler with a downtown shop in Mason's quaint town square.
Keller has received plenty of attention since his radio spot on a rural country music station in Mason County, about 100 miles east of Austin, went viral on the Internet. Keller said he whipped up the script on his iPad in 10 minutes. The ad quit airing last week.
"If you are a socialist liberal and/or voted for the current campaigner-in-chief, please do not take this class," Keller says in the ad's closing seconds, also taking a swipe at President Barack Obama. "You've already proven that you cannot make a knowledgeable and prudent decision as required under the law. Also, if you are a non-Christian Arab or Muslim, I will not teach you this class. Once again, with no shame, I am Crockett Keller."
The Texas Council on American-Islamic Relations called the ad ugly rhetoric undeserving of media attention.