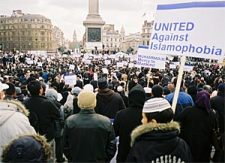 From London's Trafalgar Square to Ramallah in Palestine, from Lebanon to Austria, the caricatures of the prophet Mohammed, first printed in a Danish paper, have sparked rage.
Some 20,000 protesters filled Trafalgar Square in London on Saturday of last week for a rally against Islamophobia and incitement. The event was called at short notice by the Muslim Association of Britain (MAB) and others in the wake of the cartoons row.
The protest was also supported by the Stop the War Coalition and CND. Lindsey German, convenor of Stop the War, was warmly received by the crowd when she spoke at the rally. She noted that it wasn't only Muslims who find the cartoons offensive: "They offend me because they offend my politics – they are racist provocations from a racist newspaper."
Socialist Worker, 18 February 2006
See also the editorial comment, "Cartoon row: standing firmly united", in the same paper.