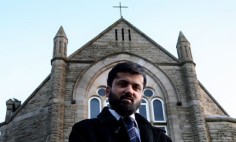 CLITHEROE, England – On a chilly night this winter, this pristine town in some of most Britain's untouched countryside voted to allow a former Christian church to become a mosque.
The narrow vote by the municipal authorities marked the end of a bitter struggle by the tiny Muslim population to establish a place of worship, one that will put a mosque in an imposing stone Methodist church that had been used as a factory since its congregation dwindled away 40 years ago.
In Clitheroe, the tussle involved a passionate young professional of Pakistani descent coming up against the raw nerves of tradition-bound local residents. "We've been trying to get a place of worship for 30 years," said Sheraz Arshad, 31, the Muslim leader here, his voice rattling around the empty old Mount Zion Methodist Church that will house his mosque.
In all, Mr Arshad and his father made eight applications for a mosque, and even proposed buying a modest terrace house on the edge of town to be used for worship. Mr Arshad said he tried to buy land from the council but was rebuffed. Often there was booing at council meetings, and, he said, cries of "Go home, Paki!"
The authorities' official reasoning for the rejections was generally that a mosque would attract outsiders – a veiled reference to Muslims – to Clitheroe. Letters to the local newspaper, The Clitheroe Advertiser and Times, warned that what had happened in Blackburn and Preston, two bigger nearby industrial towns with substantial Muslim populations, would happen to Clitheroe.
But the fight is hardly over. Beneath the official vote lies a river of resentment among those who fear that the broader patterns in Britain will emerge here. In one sign of the tensions, some of the church's windows have been smashed.
In the nearby town of Kendal, an Anglican vicar, Alan Billings, has written a book, "Secular Lives, Sacred Hearts: The Role of the Church in a Time of No Religion." He says the growing opposition to new mosques among the white population reflects an anxiety in Britain that has become more exposed since the London suicide bombings in July 2005.
"Often it's expressed as low objections, more cars, more people," said Mr Billings, who is also a frequent contributor to the BBC's religious programs. "But it is really a deeper anxiety about what is happening in society. It is the fear of what will happen to the culture and feel of Britain."
At a Saturday gathering of about 50 believers, almost all of them white-haired, Mr Billings warned that the church was under pressure. Islam could now be seen as an alternative to Christianity, he said.