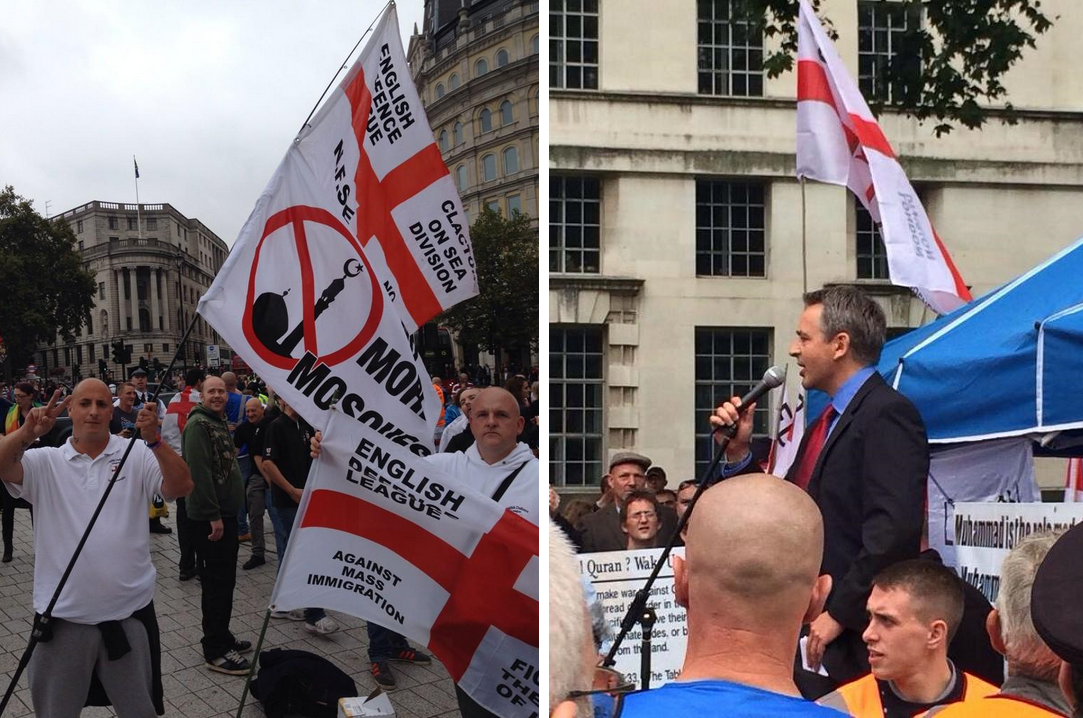 Today the English Defence League brought its alcohol-fuelled racist roadshow to London, "to demand the government take firm action urgently about the many Islamic threats to this country, its people, its culture, its heritage and its future", as they put it. Coming only a week after the EDL's Rotherham demonstration, it was always unlikely that the event would attract large numbers.
Still, this was a national mobilisation – banners from as far away as Bournemouth, Coventry, Doncaster and Clacton-on-Sea were in evidence – and the grandiose objective of the protest was "to make an EDL spectacle big enough and clear enough to echo through the media and into the hearts and minds and conversations of millions of people in this country". By that measure it would have to be considered a flop.
Only around 250 EDL supporters gathered in Trafalgar Square – endearing themselves to the general public by lurching around drunkenly and setting off a smoke bomb – before staggering down Whitehall for a rally opposite Downing Street, where they were confronted by a counter-protest organised by Unite Against Fascism.
Since the loss of its leader "Tommy Robinson" last year, the EDL has struggled to find any speakers with a shred of charisma, or even the ability to string a coherent speech together. The star turn at today's rally was a non-member of the EDL – former UKIP parliamentary candidate Paul Weston, who now heads a far-right outfit called Liberty GB.
Weston devoted his speech to a lengthy diatribe against Islam, assuring his appreciative audience that ISIS takes its direct inspiration from the Prophet Muhammad. Weston is certainly a raving Islamophobic bigot, but unlike the EDL's own speakers he is at least a reasonably articulate Islamophobic bigot.
Weston began with a gushing tribute to the EDL, stating that it was "an honour and privilege" to be invited to address their rally, while the EDL was no less enthusiastic in its appreciation of its guest speaker ("Crowd roars approval to Weston. What a speech").
Could there be a fusion in prospect? It would certainly make sense for both parties. The EDL would gain a posh-sounding spokesman who could provide a more sophisticated veneer to their crude anti-Muslim racism, while Weston would acquire an influential position in an organisation which, unlike Liberty GB, actually has some members.
As for the EDL itself, today's turnout suggests that neither the Rotherham abuse scandal nor the atrocities of ISIS have led to a significant revival of the organisation as a street movement. But it continues to spread its poison on a much larger scale via social media. Failing some major internal crisis, the EDL is not going to disappear any time soon.