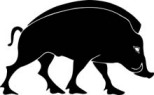 TOURVES, France — They feasted in the verdant back country of picture-postcard Provence, the delight of tourists and the pride of France.
But it was no ordinary country idyll. The extreme right Bloc Identitaire, or Identity Bloc, was lashing out at Islam while dining on pork roast and local wine – off limits to practicing Muslims.
The group, an emerging force on France's far-right scene, likens Muslim immigrants to invaders threatening the identity of the French heartland and menacing European civilization. The movement – with a wild pig as its logo – is gaining traction through its blend of Islam-bashing and romanticizing of French rural culture.
Increasingly, it is being used as an "idea box" for the National Front, a well-established far-right party and force in European politics that could play a crucial role in French presidential elections five months away.
The Bloc's campaign against mosque building and its wine-and-pork strategies are also finding a more mainstream audience in the country with western Europe's largest Muslim population, estimated at 5 million, the majority with origins in France's former colonies in North Africa.
A group of lawmakers from President Nicolas Sarkozy's conservative UMP party has formed a hard-right wing, the Popular Right, that berates immigration and has espoused anti-Muslim themes in a low-key echo of Bloc Identitaire.