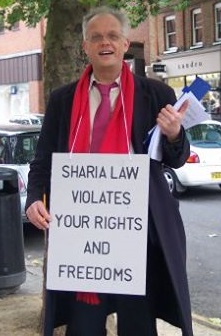 I sent a letter to the Camden New Journal this week exposing the bigoted views of local UK Independence Party council candidate Magnus Nielsen. They didn't see fit to publish it.
Evidently the CNJ doesn't think it newsworthy that a rabid Islamophobe like Nielsen is standing for local government in a borough with a large Muslim population. At any rate, whereas the Hampstead & Highgate Express ran an article on it, and Nielsen's obnoxious views even made the national media, the CNJ hasn't bothered to report the story.
The CNJ did, however, think it appropriate to publish a letter from Nielsen last year claiming that "the logic of 'affirmative action' on behalf of the self-styled 'under­privileged' is seriously flawed and can only have disastrous consequences for society as a whole", and that a House of Commons which reflected the diversity of the British electorate would necessarily discriminate against "able-bodied, happily-married, heterosexual, men of Anglo Saxon heritage".
---
Letter to Camden New Journal
Would you vote for a political party standing a candidate who declared that "Islam is organised crime under religious camouflage" and that "any Muslim who is not involved in organised crime is not 'a true believer', practising Islam as Muhammad commanded"?
If the same individual asserted that "whenever politically-activated Muslims gain power they remove freedom of speech and human rights; they annihilate people", would you think it acceptable for that person to be elected to local government and given a public platform to promote such views?
Most of us would answer both questions with a resounding "no".
But someone who proclaims these hateful views is contesting the elections to Camden Council, in a multicultural borough where one in eight of the population is Muslim. His name is Magnus Nielsen and he is the UK Independence Party candidate in West Hampstead.
Nielsen has never made any secret of his opinions. In 2010 the Guardian reported that he had described the Prophet Muhammad as a "criminal psychopath", "the first cult leader" and "psychiatrically deranged", and that he had agreed to speak at rallies organised by the far-right English Defence League.
Nielsen's Facebook friends include Pamela Geller and Robert Spencer, the two US extremists who were banned from entering the UK to speak at an EDL rally last year, because the home office stated that they were responsible for setting up "anti-Muslim hate-groups".
Despite this record, Nielsen is a longstanding UKIP activist. He is chairman of UKIP's Brent & Camden branch, in which capacity he acts as a local spokesman for the party.
He stood for UKIP in the Barnet & Camden constituency in the London Assembly elections of 2000, 2004 and 2008. He was also the party's parliamentary candidate for Hampstead & Highgate in the 2005 general election and for Hampstead & Kilburn in 2010.
UKIP leader Nigel Farage claims that his party opposes racism and all forms of bigotry. If that is the case, why hasn't UKIP publicly dissociated itself from Nielsen and withdrawn its endorsement of his candidacy?