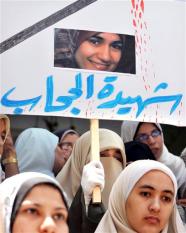 It was while Marwa el-Sherbini was in the dock recalling how the accused had insulted her for wearing the hijab after she asked him to let her son sit on a swing last summer, that the very same man strode across the Dresden courtroom and plunged a knife into her 18 times. Her three-year-old son Mustafa was forced to watch as his mother slumped to the courtroom floor.
Even her husband Elvi Ali Okaz could do nothing as the 28-year-old Russian stock controller who was being sued for insult and abuse took the life of his pregnant wife. As Okaz ran to save her, he too was brought down, shot by a police officer who mistook him for the attacker. He is now in intensive care in a Dresden hospital.
While the horrific incident that took place a week ago tomorrow has attracted little publicity in Europe, and in Germany has focused more on issues of court security than the racist motivation behind the attack, 2,000 miles away in her native Egypt, the 32-year-old pharmacist has been named the "headscarf martyr".
She has become a national symbol of persecution for a growing number of demonstrators, who have taken to the streets in protest at the perceived growth in Islamophobia in the west. Sherbini's funeral took place in her native Alexandria on Monday in the presence of thousands of mourners and leading government figures. There are plans to name a street after her.
Unemployed Alex W. from Perm in Russia was found guilty last November of insulting and abusing Sherbini, screaming "terrorist" and "Islamist whore" at her, during the Dresden park encounter. He was fined €780 but had appealed the verdict, which is why he and Sherbini appeared face to face in court again.
Even though he had made his anti-Muslim sentiments clear, there was no heightened security and questions remain as to why he was allowed to bring a knife into the courtroom.
Angry mourners at the funeral in Alexandria accused Germany of racism, shouting slogans such as "Germans are the enemies of God" and Egypt's head mufti Muhammad Sayyid Tantawy called on the German judiciary to severely punish Alex W.
In Germany the government of Angela Merkel has been sharply criticised for its sluggish response to the country's first murderous anti-Islamic attack. The general secretaries of both the Central Council of Jews and the Central Council of Muslims, Stephen Kramer and Aiman Mazyek, who on Monday made a joint visit to the bedside of Sherbini's husband, spoke of the "inexplicably sparse" reactions from both media and politicians.
They said that although there was no question that the attack was racially motivated, the debate in Germany had concentrated more on the issue of the lack of courtroom security. "I think the facts speak for themselves," Kramer said.