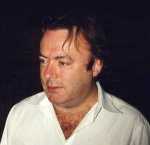 Christopher Hitchens describes his visit to Finsbury Park:
"Returning to the old place after a long absence, I found that it was the scent of Algeria that now predominated along the main thoroughfare of Blackstock Road. This had had a good effect on the quality of the coffee and the spiciness of the grocery stores. But it felt odd, under the gray skies of London, to see women wearing the veil, and even swathed in the chador or the all-enveloping burka. Many of these Algerians, Bangladeshis, and others are also refugees from conflict in their own country. Indeed, they have often been the losers in battles against Middle Eastern and Asian regimes which they regard as insufficiently Islamic. Quite unlike the Irish and the Cypriots, they bring these far-off quarrels along with them. And they also bring a religion which is not ashamed to speak of conquest and violence."
Hitch further complains that "Blair's government has appeased leading Muslim apologists by inviting them to join 'commissions' to investigate the 7/7 attacks, and thus awarding them credibility well beyond their deserts. A preposterous and sinister individual named Inayat Bunglawala, assistant secretary general of the Muslim Council of Britain and a man with a public record of support for Osama bin Laden, was made a convener of Blair's task force on extremism despite his stated belief that the BBC and the rest of the media are 'Zionist controlled'."
See also the accompanying interview with Hitchens.