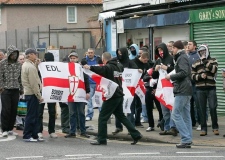 A man who had been protesting against a Dagenham mosque died on his way home after he was hit by a train at Chadwell Heath Station.
The 19-year-old, who has not been formally named by police, was struck by an oncoming train at around 3pm on Saturday. He was pronounced dead at the scene.
The man had been at an English Defence League (EDL) demonstration against a planned mosque and community centre in Green Lane, Dagenham. The protest began at around 12.30pm and finished shortly before 3pm.
Members of the EDL paid tribute to the man they called a "fearless lion". Police believe the man may have been drinking, but this is yet to be confirmed following a toxicology examination.
About 60 people from the EDL and the English National Alliance were at the demonstration. The EDL instructed members on its Facebook page to "keep it peaceful" and police said that the protest passed peacefully. But people living and working in the area described the protesters' behaviour as "intimidating", and shops and businesses were forced to shut.
Maria Collins, 43, of Green Way, Dagenham, said: "Their behaviour made me ashamed to be white and ashamed to live around here. It's disgusting the way they were acting. They were chanting to shopkeepers across the road from the mosque and intimidating people. People were scared."
Shopkeeper Alta Miah, owner of More for Less, said: "Everyone here closed their shops early from 12pm until 2pm until we knew they had gone. Then most people had half shutters when they did open so they could close them quickly if there was an emergency or more trouble. I was very stressed about it."
Tracy Ford, owner of TJ Florist, said: "When I saw them coming down Burnside Road I was scared because there were a lot of people. They were banging on the shutters."