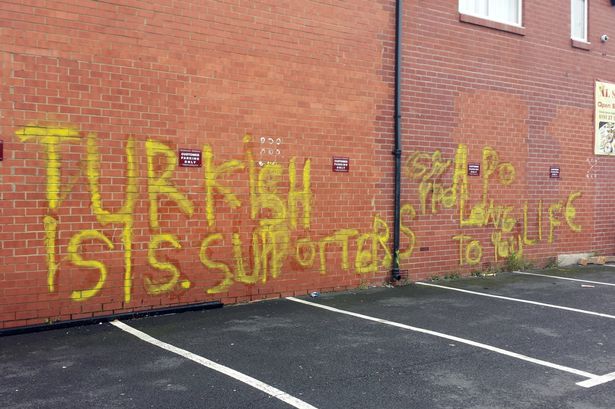 Last week anti-ISIS graffiti was found sprayed on a wall in Newcastle. Predictably, it was interpreted by the far right as being in support of ISIS and held to indicate the presence of terrorist sympathisers among the local Muslim community.
Yet it was quite obvious that the graffiti was the work of Kurdish nationalist PKK activists who were accusing Turkey of backing ISIS. The graffiti referred to the YPG, the armed wing of the PKK's Syrian affiliate, and featured the slogan "Apo long life to you" – "Apo" being the nickname of PKK leader Abdullah Öcalan.
The appearance of the graffiti coincided with a Kurdish demonstration in Newcastle against ISIS where pro-PKK placards were displayed and the Turkish flag burned.
The PKK itself appears on the Home Office list of proscribed terrorist organisations. So you could argue that the graffiti was indeed the work of terrorist sympathisers, just not ISIS sympathisers. But that's not a form of terrorism that produces fury and hatred among Islamophobes.
Police have released CCTV images of two men they want to question about the graffiti. Not unexpectedly, the individuals are of Middle Eastern appearance. Kurds generally are. But this will no doubt merely reinforce the racists' conviction that the graffiti was the work of ISIS supporters.
Update:  See "Newcastle vandal fined over ISIS-related graffiti spray-painted on shop wall", Newcastle Evening Chronicle, 16 November 2014