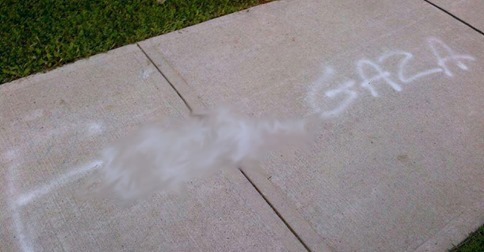 York regional police are investigating a hate crime at an Islamic centre in Thornhill, as worshippers mark the holy month of Ramadan.
The sidewalk in front of the Ja'ffari Community Centre at 9000 Bathurst St., near Rutherford Road, was vandalized on Sunday night with anti-Muslim messages. The sidewalk has since been powerwashed, but the area that was vandalized is cordoned off with police tape.
One of the messages read "Arab go home" while the other one read "F**k Gaza." A spray-painted star of David remains on the sign of the centre, and a spray paint cap was found at the scene.
There's no word on suspects. Police are appealing to anyone with information on the incident or who witnessed it to contact them. Investigators are also looking for security video.
This is the same centre at the heart of the condominium controversy in February.
The Ja'ffari Community Centre had submitted a proposal to turn its 12-hectare property into a high-density Muslim community, which would include the highrise buildings as well as 61 townhouses. Residents said they don't want the area to become overcrowded.