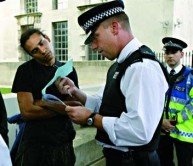 Police are stopping 366 people every day in London under stringent anti-terror powers described by the official security legislation watchdog as "a significant intrusion into personal liberties".
The number of random checks carried out in the capital increased fivefold to almost 11,000 last month in the aftermath of attempted car bomb attacks, when the threat level was raised to severe.
Scotland Yard said yesterday that it was encouraging beat officers to use their stop-and-search powers more often and more widely to deter further terrorist attacks. Commander Rod Jarman predicted "an increase in overt counter-terrorism activities by the police over the coming months".
Scotland Yard said that 54 per cent of those stopped last month were white, compared with a 71 per cent white population in Greater London. The proportion of people of Asian ethnicity stopped was 24 per cent – double the percentage in the capital's population.
Inayat Bunglawala, assistant secretary-general of the Muslim Council of Britain, said: "It is perhaps unsurprising that we have seen this massive increase in the number of stop-and-searches carried out in the immediate aftermath of the attempted car bomb attacks in June. However, questions remain regarding the actual effectiveness of such a strategy based on disruption – given the very low number of charges brought as a result – and whether it is actually doing more harm than good."
Gareth Crossman, of Liberty, said: "Thousands of Terrorism Act stop-and-searches have produced hardly a single terrorism arrest. When not targeted against specific threats, Section 44 undermines community relations and wastes police resources."