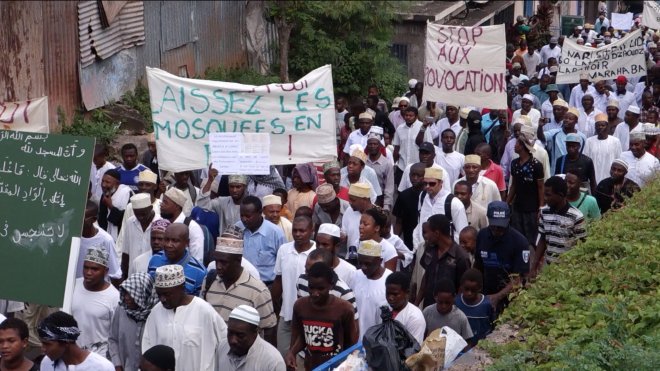 Last January a pig's head was left outside a mosque in the French overseas department of Mayotte. This act of desecration caused outrage among a population 95% of whom are Muslim and large demonstrations were held in protest.
Sarah Leduc and her friend Malika Lenormand got drunk at a new year's eve dinner party and decided it would be fun to deposit a pig's head outside a mosque, for a bet. Leduc's partner, police officer Sébastien Milin, drove them to the Labattoir mosque where they left the head just before morning prayer.
The following day a photo of the pig's head and the comment "the package was delivered" were posted on Facebook. The court was told that the Facebook page, apparently belonging to Leduc, also featured far-right material.
The three have been convicted of "incitement to hatred, violence or discrimination because of religious affiliation". Leduc and Lenormand were given prison sentences of nine months, six months of which were suspended, while Milin received a six-month suspended prison sentence. In addition they were given two years probation, fined €3,000 each and required to pay €16,000 in compensation to the mosque.
Their lawyer claimed that his clients had been convicted of blasphemy and sacrilege, which are not criminal offences. He said they would be lodging an appeal.
See reports by Libération, Le Parisien and Le Journal de Mayotte.