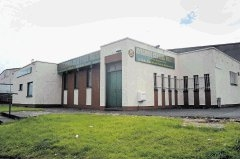 A teenager who brutally attacked an elderly worshipper outside a mosque has been given three years' detention.
Samuel Cassidy, 16, left 71-year-old Muhammed Iqbal with horrific injuries after kicking and stamping on his head, even after he lay unconscious, during the racist attack.
Mr Iqbal, a retired shopkeeper, was opening up Ayrshire Central Mosque in Kilmarnock for early morning prayers shortly before 2am when Cassidy pounced, calling him a "Paki b******".
Nancy Beresford, prosecuting, said Cassidy pushed Mr Iqbal to the ground before kicking and stamping on his head and body. Witnesses said the attack continued after the grandfather lay unconscious on the ground. She said: "This continued for what they thought was about ten minutes."
Kilmarnock Sheriff Court heard Cassidy fled before two more worshippers arrived on the scene. One was a doctor and gave first aid while an ambulance was called. Mr Iqbal was taken to Crosshouse Hospital suffering from severe facial injuries. He needed scans and was kept in hospital for several days. The court heard Cassidy boasted in a text message: "I have just left a Paki in a puddle of blood."
Cassidy, of Bishopton, Renfrewshire, admitted racially aggravated assault to severe injury in July.
The attack caused widespread disgust in the Kilmarnock district, where Mr Iqbal was decribed as a "pillar of the community" for more than 40 years. Dr Shaheen Mirza, vice-chairman of Ayrshire Central Mosque, said after the incident: "It is a sad day when an elderly gentleman of any community is viciously attacked. How you treat your elderly is a gauge of the community's civility you live in."