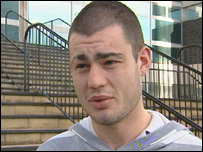 A young North Wales thug who yanked off a Muslim woman's veil was today spared jail after he made a public apology in court.
Damien French, 21, of Brighton Road in Rhyl, admitted charges of racially aggravated common assault and a racially aggravated public order offence when he appeared before Mold Crown Court this morning. The judge, Mr Recorder Robert Trevor-Jones, said that French's behaviour in grabbing the hijab had been "deplorable, despicable and quite disgraceful". French was given an 18-week prison sentence suspended for two years.
Mold Crown Court heard how victim Shahenna Hussain, 23, was walking with her sister and two nieces, pushing push chairs along the street at the junction of High Street and Wellington Road one afternoon in April. French was seen by a witness in a nearby shop to be initially hurling foul racial abuse at a coach which appeared full of Asian passengers.
Miss Hussain saw the defendant and his group, realised what was happening, put her head down to avoid eye contact and continued on her way. The defendant and his group noticed her and her sister as she crossed the road and he shouted and swore in racial terms towards her. Prosecutor Gareth Parry said: "She suddenly felt a violent grip to the top of her head, connecting with her hijab, which was fixed with two pins. But pins were forced open." She was "extremely upset and angry" and felt violated, explained Mr Parry.
See also BBC News, 2 November 2007