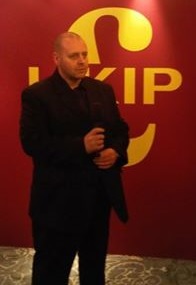 A top Ukip aide boasted of taking part in far-right demonstrations. Arthur Thackeray, the taxpayer-funded chief of staff for the party's Euro MP David Coburn, told of marching with the English and Scottish Defence Leagues.
The revelations will hugely embarrass UKIP leader Nigel Farage, who has ­repeatedly insisted his party is not racist.
Thackeray, 53, from Glasgow, was put on the public payroll by Mr Coburn, one of 24 Ukip candidates elected to the ­European Parliament in May this year.
But just two years ago Thackeray boasted on Facebook about taking part in an SDL demo in Glasgow on February 25, 2012. Months earlier he told how he joined the EDL at a protest in Blackpool on October 15, 2011, with "patriots old and new".
He spelt out his support for the far-right groups in a post on September 3, 2011, writing: "I personally support the aims and objectives of the Defence Leagues. Ukip has no official party line on this issue."
A day earlier, on the eve of an EDL demo in east London, he wrote: "To all London-bound patriots… stand proud and stay safe NS (no surrender)." When another activist urged people to join EDL to stop "Muslim paedophile gangs", Thackeray replied: "Good post."
On the day of a highly contentious protest in Luton, Beds, he wrote: "Luton 05/02/11. For all the patriots, infidels, angels and belles… stand proud and stay safe… NS!" After a 2010 Armed Forces Day event in Blackpool he wrote: "Thanx to the UKIPers, EDLers, RAFers and Infusers I met."
He is on first-name terms with former National Front chief Patrick Harrington, who sent him an online Christmas card. And in October 2012 he plugged a book in favour of far-right soccer thugs group Casuals United, writing: "Forget lefty media lies and be informed from inside the patriot protest movement."
Last year Ukip leader Mr Farage suspended Leicester Parliamentary ­candidate Chris Scotton, 24, after he "liked" a Facebook page supporting EDL.
Ukip did not respond to our request for a comment last night.