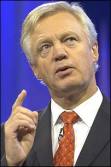 The Conservatives today accuse Muslim leaders of encouraging "voluntary apartheid" in Britain by shutting themselves away in closed societies and demanding protection from criticism.
David Davis, the shadow home secretary, says that Britain risks social and religious divisions so profound that society's very foundations, such as the freedom of speech, will become "corroded" and that the perfect conditions for home-grown terrorism will be created.
His stark intervention, in an article for The Sunday Telegraph, represents a toughening of the Tory stance on the dangers of Islamic radicalism and follows calls from some leading ministers for Muslim women to remove their veils. It is also a departure from the "caring Conservatism" message laid out by David Cameron.
Mr Davis says he supports the stance on veils adopted by Jack Straw, the Commons Leader, but believes the wider issue is one of the "very unity of our nation".
"What Jack touched on was the fundamental issue of whether, in Britain, we are developing a divided society. Whether we are creating a series of closed societies within our open society. Whether we are inadvertently encouraging a kind of voluntary apartheid. At the starkest level, we may be creating conditions in the recesses of our society that foster home-grown terrorism."
Sunday Telegraph, 15 October 2006
Robert Spencer welcomes this example of "Anti-dhimmitude from the Conservative Party".