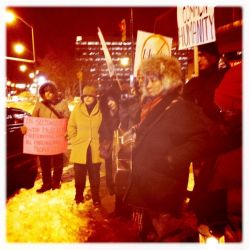 On January 11, 2011, the alliance of the Jewish Defense League (JDL) and the English Defence League (EDL) was challenged by counter-protests from anti-racist and human rights activists.
The JDL and EDL alliance was supposed to be cemented in Toronto at an event held by the JDL in support of Tommy Robinson of the EDL, who addressed the Zionist group about his recent arrest.
In response to this JDL/EDL alliance, two separate counter-protests gathered, but organizers from both publicly expressed their solidarity with the other. One was an explicitly peaceful vigil outside Lawrence Square with candles and music, organized by the CUPE 3903 First Nations Solidarity Working Group and Christian Peacemakers Team and was also attended by several other groups. Another protest, more militant in dress and slogans but still simply a demonstration, was organized mainly by a new incarnation of Anti-Racist Action Toronto.
The ARA press release stated: "Their [EDL] claim of opposing 'Militant Islam' is a cover for their racist campaign of whipping up hatred against Muslims. Their organizing principles of opposing the 'spread of Islam' in the United Kingdom clearly show that they are not only against militant Muslims, but rather seek to destroy ALL Muslims regardless of political ideology. The EDL has organized violent street marches that target Arab and Muslim communities, demonstrating the fact that they target ALL Muslim people simply for being who they are."
Toronto Media Co-op, 12 January 2010
See also Jewish Chronicle, 13 January 2011 and Haaretz, 12 January 2011