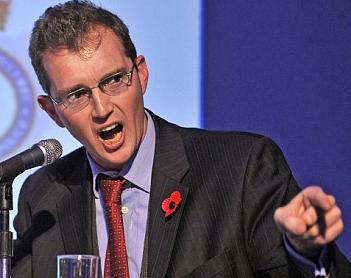 David Cameron was last night challenged to deselect a Welsh Conservative MP who linked the case of a teenage Muslim rapist to "barbaric and medieval" views towards women "imported into this country".
Monmouth MP David Davies made his controversial comments during a radio interview while discussing the case of Bilal Khan, 13, who was jailed for three years for raping a 20-year-old woman in a park at Stoke-on-Trent.
He said: "I think there is a wider question here. What is it about this young man's upbringing, what about his community or his parental upbringing, that led him to think that women are second-class people whose rights can be trampled over like this?
"That is a very interesting question, and there are some sensitive issues here but there do seem to be some people in some communities who don't respect women's rights at all and who, I may say, without necessarily saying this is the case on this occasion, who have imported into this country barbaric and medieval views about women, and that is something that also needs to be addressed."
Welsh Secretary Peter Hain said: "David Davies should be ashamed of himself. His was a knee-jerk reaction based on ignorance. Rather than concentrating on the facts of a shocking case, he chose to malign entire communities in a wholly unfair and divisive way."
Naz Malik, chief executive of Awema, the All Wales Ethnic Minority Association, said: "By linking in this instance the rape case to undefined migrant communities, David Davies displays the thought processes of a racial bigot. I think it is time David Cameron reassured Britain's ethnic minority communities by sending a very strong message to him that his remarks are wholly unacceptable. That could be achieved by deselecting him as a Conservative candidate in the coming general election."
Mohammed Shafiq, chief executive of the Ramadhan Foundation, a group representing young Muslims, said: "We in our communities find what Bilal Khan has done evil and totally unacceptable in Islam and for Mr Davies to suggest that somehow these rapist attitudes are engrained in some parts of [black and minority ethnic] communities is deeply offensive and of no substance."
Plaid Cymru AM Leanne Wood said: "These comments not only display a crass ignorance of different cultures, but are highly inflammatory. To suggest that 'backward, medieval and barbaric' views towards women are being 'imported' into the UK is dangerous and irresponsible. Discriminatory attitudes towards women have to be tackled in all communities, regardless of race or religion. For David Davies to claim otherwise, suggests he is either very ill-informed or trying to court the anti-immigration brigade."