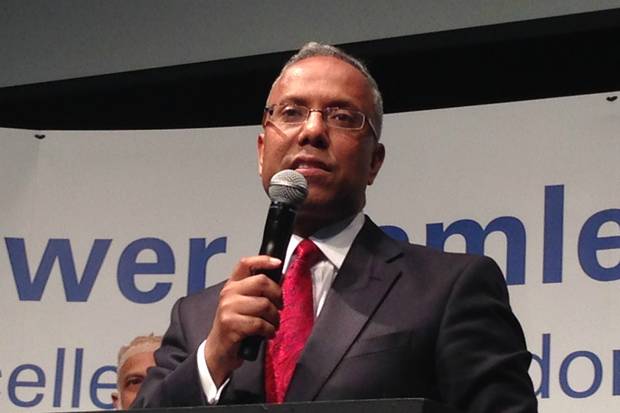 Controversial Lutfur Rahman last night triumphed over Labour in a knife-edge mayoral election in Tower Hamlets.
The independent incumbent, standing under new party name Tower Hamlets First, fought off John Biggs to win on second preferences at a chaotic count night at the Troxy in Limehouse.
In a tightly-fought contest, Mr Rahman edged through after neither candidate secured a big enough share of the vote needed to win in the first round.
Bookmakers had placed Mr Biggs odds on favourite – but the result ushers in four more years of power for one of Britain's most controversial politicians.
He told his exultant party members when the announcement was finally made just before 2am; "All I've ever said, and I'll say it again, is judge me on my record. Judge me on what I do for this borough. I'm grateful to people who look at this borough and judge me on my record."
He added: "To the people who didn't vote for me… Give me a chance to serve you, let me reach out to you. "This office is a passion for me. Give me a chance to serve, even if you didn't vote for me today."
Mr Rahman gained a total of 37,395 votes – with under 1,000 of those second preferences. Despite a strong showing in the second round, Mr Biggs recorded a total of 34,143, with around 6,000 of those second preferences.
Turnout was more than twice as high (47.58 per cent) as it was in 2010 when Mr Rahman first swept to power.
Entering the stage to concede, John Biggs was met by jeers from Mr Rahman's supporters. "Show a bit of respect to democracy and listen to what we have to say," he appealed to the crowd.
Thanking his party activists and congratulating his opponent, he added: "Tower Hamlets is a great place to live, I love living in the East End. We now need to work together. Thank you very much."
Earlier in the night, a crowd of hundreds of Mr Rahman's supporters had gathered in the street outside ready to greet him with jubilant celebrations.
The historic Troxy was placed on lockdown as security staff feared over-zealous crowds could spark violence.
Mr Rahman has been a figure who divided opinion during his first term.
A qualified lawyer, he came under fire from government ministers, most notably Communities Secretary Eric Pickles who sent in inspectors to probe the way the council was being run. The findings of that investigation – which Mr Rahman said he welcomed – are not due to be published until June 30.
He had swept to power in 2010 after leaving the Labour Party, standing against his former colleagues in a viciously-fought campaign, and taking with him a cabinet of Independent councillors made up entirely of Muslims of Bangladeshi origin.
Allegations of postal fraud which followed in the aftermath of that bitter election triggered a wide-ranging investigation, but police did not find sufficient evidence to prosecute.
As a result of the controversy of previous polls, this year's ballot was conducted under almost unprecedented scrutiny, with police officers at every polling station amid warnings from the Electoral Commission that the borough was at "high risk" of electoral fraud.
A heavy police presence was also on hand at the count as a huge crowd of supporters gathered outside the venue, where results were not announced until late into the night.
See also "Lutfur Rahman wins Tower Hamlets mayoral election", BBC News, 24 May 2014
And "Narrow victory for Lutfur Rahman in Tower Hamlets mayoral vote", The Wharf, 24 May 2014
Update:  See Ashok Kumar, "Tower Hamlets: The last outpost of the Raj falls", Ceasefire, 27 May 2014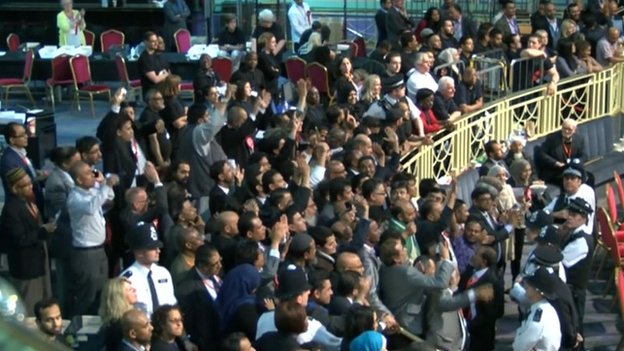 Lutfur Rahman supporters celebrate his victory