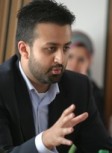 One of Scotland's most prominent Muslims has compared the treatment of Asians in Britain with that of Jews in Nazi Germany.
Osama Saeed, Scottish spokesman for the Muslim Association of Britain and a former Scottish National party candidate, said the growing number of attacks on Muslims echoed the state-sponsored persecution of Jews in pre-war Germany.
Saeed said many middle-class Muslims were considering leaving the country because they feared that they or their families would be attacked because of their religious beliefs. He fears tensions could spill into violent confrontations unless the government tackles souring relations with the Muslim community.
"We didn't get to the situation in world war two out of nowhere," said Saeed. "Hitler was a product of a German society where anti-semitic attitudes had existed unchecked for decades. We have got to listen and learn from what happened there and be vigilant. I am not talking about large numbers of people being rounded up, but we could be looking at situations where Muslims are routinely assaulted in the streets.
"We have got to be conscious that we are stoking an unpleasant atmosphere for the people that come after us. In Europe in the 1990s a slaughter of Muslims took place in Bosnia so we are not talking ancient history or pie in the sky. The climate can change quickly."
Murdo Fraser, the deputy Scottish Tory leader, said the comments were ill-judged. "I don't think it's a rational response to compare the treatment of Muslims in today's Britain in any way to the horrific treatment that the Jewish people suffered at the hands of the Nazis," he said. "An approach of this sort will win no friends."
Sunday Times, 10 December 2006
---
It will be interesting to hear Osama's response to this. However, even judging by the Sunday Times' own report, it is clear that he was not saying that the level of oppression suffered by Muslims in the UK today is equivalent to that of German Jews under the Nazis. Rather he was making the point that the persistent demonisation of a particular community can establish the conditions under which violence against that community is incited and legitimised. But then, when did the right-wing press ever give fair coverage to spokespersons for the Muslim community?