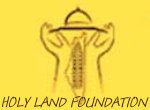 DALLAS — A group that was once the nation's largest Muslim charity went on trial on terrorism-support charges Tuesday, with federal prosecutors saying it hoped to destroy Israel and the defense claiming leaders sought advice on staying true to their humanitarian mission.
The trial of the Holy Land Foundation for Relief and Development is expected to last several months and caps an FBI investigation that lasted more than a decade. The organization and five of its top officials are charged with aiding terrorists, conspiracy and money laundering.
Prosecutor James T. Jacks said in his opening statement that the foundation was created to raise money for the Palestinian militant group Hamas. The charity's leaders lied about their purpose "because to tell the truth is to reveal what they were all about – the destruction of the state of Israel and replacing it with a Palestinian Islamic state," he said. Some of the money went to support the families of suicide bombers, according to authorities.
Defense attorneys say Holy Land supported humanitarian efforts in Palestinian neighborhoods and did not knowingly aid Hamas. "Holy Land had nothing to do with politics. Its focus was on children in need," Nancy Hollander, lawyer for Holy Land chief executive Shukri Abu Baker, said in her opening statement.