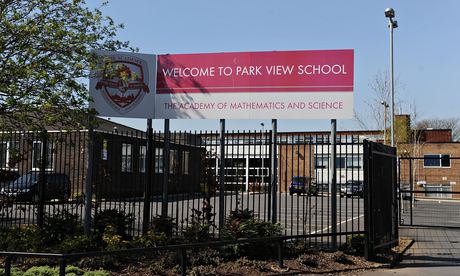 The chairman of the education trust at the centre of the alleged "Trojan Horse" Muslim takeover plot in Birmingham schools has resigned along with his entire board of trustees.
Tahir Alam, of the Park View Educational Trust, made the announcement today outside the gates of Park View Academy in Alum Rock, Birmingham.
The trust has been the focus of allegations made in the anonymous Trojan Horse letter – now widely held to be a hoax – alleging the existence of a clique of hardline Muslims attempting to seize control of Birmingham schools. Those allegations triggered several inquiries and last month the trust's three schools were placed in special measures by Ofsted. Mr Alam has always denied any wrongdoing and branded the investigations "a witch hunt".
Mr Alam launched a scathing attack on outgoing Education Secretary Michael Gove, Ofsted and others, as he announced he would be standing down.
After four months of inspections and scrutiny, the capacity of the trust's three schools – Park View, Golden Hillock and Nansen – to continue to offer an outstanding education "is at risk of being seriously compromised", he said.
"We believe strongly that we have justice on our side, and we know we have the support of many from within and outside Birmingham, including our students, parents and members of staff," Mr Alam said.
"However, we are not prepared to subject our school communities to the further period of intense and bitter pressure that our continuing as members of Park View Educational Trust will see them face. And it is for this reason, and with a deep sense of injustice and sadness, that today we are announcing our intention to resign our positions at Park View Educational Trust and allow new people to assume responsibility with the aim of continuing the success of our schools."
Mr Alam said the reputation of Park View School had been brought to the point of destruction, and the effect on the communities of the allegations and investigations had been "appalling".
In a statement, Mr Alam said he and the trust's other trustees were "immensely proud" of the role they had played in improving Park View and raising achievement at Nansen and Golden Hillock.
Today's announcement means the trust will continue, albeit under the stewardship of three new trustees to be appointed in due course, according to Mr Alam.
He said the trust had been the victim of "a vicious and co-ordinated offensive" by Ofsted, the Education Funding Agency (EFA) and the Department for Education (DfE) which carried out eight inspections in four months.
Mr Alam claimed Mr Gove had been "the driving force" behind what he claimed was unfair scrutiny, and that "deep mistrust at the heart of Government" had allowed the views of disgruntled former staff to gain traction.
However, Mr Alam also acknowledged there had been "genuine concerns" from current staff, although the atmosphere of "innuendo and rumour" had seen these "blown out of all proportion".
Referring to today's Cabinet reshuffle, which saw the former Education Secretary removed, Mr Alam said: "Mr Gove's demotion today provides us with some reassurance that the Prime Minister has finally acknowledged the profound damage that has been caused by his divisive approach."
Mr Alam called on the new cabinet member for education, Nicky Morgan, to "urgently consider" removing the head of Ofsted Sir Michael Wilshaw from his position for what he called his "role in this fiasco".
He also criticised the "high talk" of promoting British values in light of the fact the contents of the confidential inspection reports had been "cynically and systematically leaked to the media". "Surprisingly, no-one from within these departments seems remotely interested to find out who has leaked these reports," he added.
Delivering his statement to members of staff and the waiting media, Mr Alam said "the speed and ferocity of the attack has been truly shocking" and had had an "appalling" effect on the school. He said pupils were now worried about the impact of having Park View on their CV, in terms of future career prospects.
"The truth is no-one much cared about the young people of east Birmingham when their schools were failing them for decades, when most were leaving without sufficient qualifications to move to further education or get a decent job," added Mr Alam.
He said the Government's message to that same mainly Muslim community "seems clear – 'you may choose to come to these schools, but you are not to be trusted to play any part in decision-making about how they are run'."
Concluding, Mr Alam said: "We hope the new Education Secretary recognises the urgent need to rebuild Birmingham's confidence in her department in the interests of a better education for all our children."
See also "'Trojan horse' school trustees resign in protest over Michael Gove's approach", Guardian, 15 July 2014