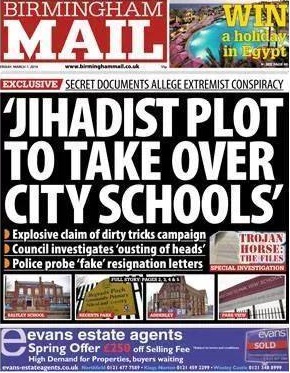 A council's failure to respond to a damning report on the Trojan Horse scandal has been labelled "astonishing" by the head of Ofsted.
Sir Michael Wilshaw called for "greater urgency" from Birmingham City Council and the Department for Education (DfE). He also warned the scandal – in which Muslim groups were accused of trying to take control of a number of Birmingham schools – may not be over.
The DfE said any action would "unfortunately take a while".
Speaking to the House of Commons public accounts committee, Sir Michael said: "I don't think we've seen the end of the Trojan Horse issues. That's why I've been clear that Birmingham's got to step up to the plate and monitor what's happening in their schools… much more effectively.
"There needs to be a greater sense of urgency. It is astonishing the local authority has not produced an action plan… after 13 or 14 drafts. These are very, very serious issues."
Ofsted will conduct further inspections of academies in January.
Four separate investigations were conducted into the allegations, which were sparked by the so-called "Trojan Horse" letter – now widely believed to be a hoax. The letter, which was sent to the council, referred to an alleged plot by hardline Muslims to seize control of a number of school governing boards in the city.
In June, Ofsted issued a damning verdict on the running of a number of Birmingham's schools and declared five failing, placing them into special measures. Those schools were Golden Hillock School, Nansen Primary School and Park View Academy – all run by the Park View Educational Trust (PVET) – as well as Oldknow Academy and Saltley School.
In an update published in October, Ofsted said those schools had not improved, with Sir Michael warning of slow progress in appointing new governors and senior leaders. Speaking to MPs, Sir Michael said the DfE had to make sure new leaders at the affected schools were doing a "good job".
Chris Wormald, from the DfE, said Sir Michael was right to call for urgency, but said there were a number of things that needed to be done that "unfortunately do take quite a bit of time, particularly around a variety of staffing changes".
See also "Ofsted chief condemns Birmingham City Council over Trojan Horse response", Birmingham Mail, 18 November 2014