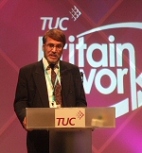 Muslim and trade union organisations announced on Monday that they are to hold a joint seminar on improving the job prospects of Muslim workers and combating Islamophobia.
The Muslim Council of Britain (MCB) and the Trades Union Congress (TUC) will hold the event on Thursday. The two groups will discuss not only job prospects for Muslims but how to combat the effects of Islamophobia and far-right activity in parts of Britain. The event follows pledges by the TUC and the MCB last year to work together to encourage more Muslims to join trade unions.
Monday's statement also backed efforts to improve community relations, both at work and in society. TUC general secretary Brendan Barber said:
"We do not underestimate the scale of the challenge facing us today. Islamophobia is a real and present threat, fuelled by prejudice and misunderstandings, and the rise of the far right and electoral success of the BNP are alarming features of recent years. Local elections are approaching once again and, by working together, the TUC and the MCB can expose the far right for what they really are and work towards a better deal for everyone in the workplace."
MCB secretary general Dr Muhammad Abdul Bari said: "We believe in social justice and equal rights for all. The Muslim community is facing real problems of discrimination and poverty – a third of Muslims are living in the 10 per cent of most-deprived neighbourhoods of the country, but we have a tremendous amount to offer the British workplace in terms of skills, optimism and energy."
The seminar will be held at the Congress Centre in London. It will be chaired by TUC general council member Mohammed Taj and keynote addresses will be given by Mr Barber and Dr Bari.
Morning Star, 10 April 2007