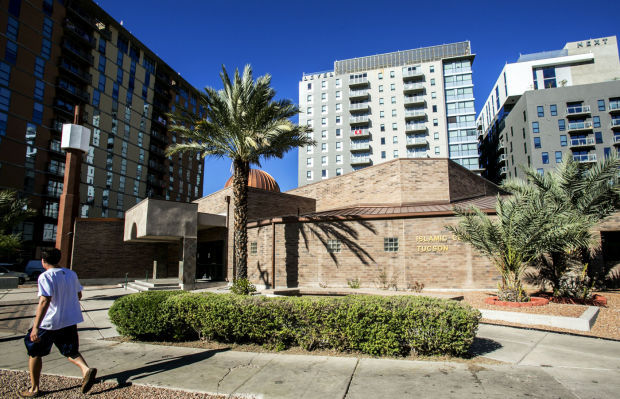 Four residents of the Level – a high-rise apartment that primarily houses University of Arizona students – were served eviction notices after management concluded objects were thrown from their balcony onto the Islamic Center of Tucson.
The notices were served Thursday after video from the center and mosque shows objects thrown from a balcony that all four male residents share, said City Councilman Steve Kozachik, who is working to make sure the rowdy behavior stops. "I am less concerned with the sensitivity of these kids than people on the ground dodging a whiskey bottle," Kozachik said.
For more than a year, the mosque and center's property has been pelted by beer and liquor bottles, among other objects, thrown off balconies of three high-rise apartment complexes by intoxicated students, Kamel Didan, vice chairman of the board of the Islamic center, has said in earlier interviews.
The mosque is at 901 E. First Street, east of North Tyndall Avenue and south of East Speedway. A total of about 1,200 to 1,500 tenants live in the three complexes situated around the mosque.
After a meeting with mosque members Friday night, Kozachik said he and members agreed that the balconies need to be turned into "Arizona rooms" – or enclosed porches – "so that students are prevented from tossing things over."
"Until that happens, we're just treading water and not really making any progress," Kozachik said. He said when the tenants turn over next semester, "we're back at square one."
Attorney Keri Silvyn, who represents the owners of the Level, Next and Hub high-rises, confirmed the four residents were given the notices and they have until Monday to vacate their apartments. However, said Silvyn, the four residents "do have an opportunity to protest the eviction. The process takes one to two weeks."
"We are taking a firm stance with the residents if we have proof," said Silvyn, explaining who will be served with eviction notices. "We are educating our residents and making sure we maintain a safe property around the complexes."
Level, 1020 N. Tyndall Ave., opened in the fall of 2013, and Next, 1031 N. Park Ave., and Hub, 1011 N. Tyndall Ave., opened earlier this year. Since their openings, there have been a total of 46 calls to police, said Kozachik, which he described as an "awfully high number."
The calls police responded to were 24 loud music/party reports; 10 disturbances; five fights brewing; and seven disorderly conduct calls. Level had the most police responses with 21, followed by Hub with 18, and Next with seven.
Two red tags, which are red flags for loud parties or unruly disturbances, were issued at the Level earlier this month, Kozachik said. Police put the red stickers on the problem property, and it remains for a period of time. Individuals who are found to be responsible incur a fine, and further penalties if police are called again to the location.
Security patrols were increased at the apartments, and Tucson Police Capt. Jim Webb said earlier that officers will keep an eye on the hot-spot area. He also said police are looking at incidents on Nov. 6 and Nov. 15 involving objects being thrown onto the Islamic Center's property from the high-rises.
Extra video cameras are expected to be completely installed by the apartments' management at the complexes by Dec. 1. They will show all four sides of each tower that cannot be seen on cameras now, said Kozachik. Apartment managers have committed to not hold parties on the roof level, or outdoors in the common areas, Silvyn said.
A community forum is scheduled Dec. 8 from 6 to 8 p.m. at the University of Arizona to address unruly behavior at student housing off campus, Kozachik said. A location for the forum is yet to be decided.