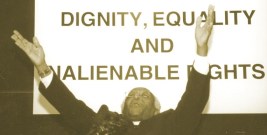 LONDON – Archbishop Desmond Tutu called on the media on Wednesday to be more careful in their choice of words when reporting on religious conflict.
"I would hope that you in the media would be passionate about letting people judge for themselves, that you would be careful about some of the language that you do actually use," he said. "'Muslim terrorism' – have you ever read anywhere 'Christian terrorism'? – as if Islam propagates violence, but you have never spoken about what happened in Northern Ireland as Christian terrorism," he said.
Tutu added that understanding different religions required peoples of all faiths to understand different perspectives. "We Christians ought to get off our high horse and learn to be a great deal more humble, when you look at our history, the bloody things that we did in the name of religion," he said.