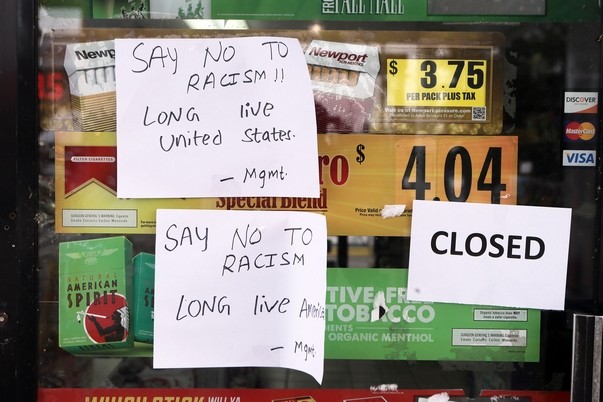 As a woman fueled her car Tuesday afternoon at the Road Runner Discount gas station in Houma, another driver pulled up, window down, with a message.
"Are you aware there has been an incident in which an American soldier was cursed out and those people are very anti-American? You should be aware of it, and getting your gas somewhere else. We don't need anybody who is anti-American," she said as the station's clerk walked toward her car.
"These are lies," the clerk pleaded. "Ma'am, please don't hate me because I look like a Muslim. Please do not hate me for this," his hands gesturing to his tanned complexion, black hair and brown eyes.
The gas station was the scene of a protest Wednesday sparked by a local television program's hour-long news and talk show claiming a clerk insulted all U.S. military veterans last week. The store's owner and cashier say the claim is fueled by racism and are considering a lawsuit claiming HTV host Martin Folse insinuated the store was selling synthetic marijuana and funding terrorism abroad, an assessment Folse denies.
On Monday, Folse took the desk of his evening news call-in show "Bayou Time," which he regularly hosts on HTV-10, the station he owns. He prefaced the retelling of the alleged insult by highlighting previous "exposés" he's participated in with Terrebonne Parish sheriff's deputies busting convenience stores with "foreigners" selling synthetic marijuana and drug-like "bath salts."
"I don't have to tell you by looking at the pictures that he was not born in Terrebonne Parish," he told viewers as clips ran of a convenience store clerk being handcuffed last year. "The reason I say that is we are asked not to profile when we do news stories, but when I tell you this story about the veteran, you will understand that they are profiling us."
He then recited the account of local surgeon and Army veteran Phillip McAllister, who Folse at first refused to identify.
Efforts to reach McAllister at his office Tuesday and Wednesday were unsuccessful. Folse initially invited The Courier and Daily Comet to interview McAllister at HTV studios Wednesday but later said that would not be possible.
Folse played McAllister's audio account of the incident on HTV Wednesday night. In it, McAllister said he stopped by the Road Runner to purchase gas and snuff. The clerk was confused by which type of snuff McAllister had ordered. McAllister claims the clerk became upset with him. As he exited, he heard the clerk make a comment.
"I turned around and asked him what he said, at which time he told me that I was a (f***ing ***hole)," McAllister claims in the recording. "I then reminded him that he was able to speak to people that way because of veterans who had sacrificed much for this country. He then informed me that I was a (f***ing ***hole) as a veteran like all veterans," McAllister claims in the recording. McAllister, whose practice is advertised on HTV, then left the store.
In his TV report Monday, Folse offered a similar story and added that McAllister described the clerk as being "of Middle Eastern descent." But the clerk, a 25-year-old who said he emigrated from the south Asian country of Nepal five years ago to study civil engineering, claims McAllister is lying. The man wished to withhold his name, saying he is concerned about his safety. "I didn't even know what the word 'veteran' is until this," the clerk said. "I'm still learning English."
The clerk claims confusion over the snuff led McAllister to say either "you people" or "Arabs" "don't know how to serve Americans." To which the clerk admitted he replied: "If you think that, you are a f***ing ***hole," repeating that statement before McAllister left the store. "I am living in the United States, the land of opportunity. Why am I going to say I hate veterans?" the clerk said, insisting his insult was directed at what he saw as a racist man and nothing more.
Though Folse's show featured looping video of the gas station, he did not make contact with the owners or workers, claiming his previous synthetic marijuana "exposés" earned his station a blanket ban of the area's convenience stores. He claims to have unsuccessfully tried other avenues to reach the owner.
Folse's Facebook post promoting the segment has been shared hundreds of times. Video clips from the show have been shared more than 1,000 times. Tuesday through today, his Facebook page hosted hundreds of messages of support for veterans mixed with xenophobic slurs like "rag head terrorists" and memes with messages like "Kick Islam out of America." Others questioned the veracity of Folse's on-air statements.
"It's disgusting. I watched a little bit. It just is disgusting," said the gas station's owner, who also asked that his name be withheld because he is concerned about his and his family's safety. "I cannot see that come out of (the clerk's) mouth. He is a good person, a good worker."
The store owner said he has seven Road Runner Discount gas stations in Louisiana. He moved to the U.S. as a young child and is an American citizen. He is one of seven siblings in a Vietnamese family based primarily in the New Orleans area. His father moved to the U.S. after fighting communists in the Vietnam War, he added.
Folse coupled discussion of the alleged insult during the broadcast with the claim that gas stations owned by immigrants are funding terrorism abroad.
"I talked to someone in the police force tonight, and they assessed that well over 50 percent of the convenience stores that are owned by foreign descent, a lot of the monies are going overseas, and they went on to say that a lot of those monies is being infiltrated back into terrorist organizations: Yemen, Pakistan, Iran," Folse told viewers.
Last year, three Houma convenience stores were busted in coordination with federal drug enforcement agents who speculated that portions of the money seized might have been flowing to Yemen and organizations that may be tied with terrorists.
An ongoing social media conversation relating to synthetic marijuana and convenience stores is why that subject was included in the show about the alleged insult, Folse said Wednesday. In his broadcast, Folse did not state this particular store was selling synthetic marijuana or was tied to terrorist organizations but did posit: "If they can treat our veterans this way, you know where their money is going."
The store's owner said this is an insinuation that his store is up to no good. "He had my sign on there from beginning to end," the store owner said. "He's trying to say we are terrorists. He is attacking me."
In an interview Tuesday, Folse denied linking this particular store with the funding of terrorism or sales of synthetic marijuana and denied his comments unfairly cast a shadow on all gas station owners of foreign descent.
The store owner, however, said Folse's program played to a fear of "foreigners" and outright racism he regularly feels. "I get racial remarks all the time. They say, 'How you got here?' I mean, does it matter? Some say 'I bet you would never hire an American.' I say, 'My cashier is white,'" he said.
During the show, Folse pleaded with viewers to patronize convenience stores owned by U.S. citizens. "If you want to go into a store and it is of foreign descent that is obvious, ask them for their American citizen card," Folse said during the show, adding that he is "not saying that everybody is always bad."
The comments feed into existing, hateful stereotypes about people of Middle Eastern descent, Lecia Brooks, outreach director of the Southern Poverty Law Center, a Birmingham, Ala.-based civil liberties organization that tracks hate crimes and minority issues, said after watching a replay of the program.
Folse countered that his comments were simply urging people to be aware of their surroundings and are not "a racist thing" as the store owner suggests. "What is wrong with asking anyone for their credentials," he said Tuesday. "If our loved ones go into a convenience store and spend money, shouldn't we know who we are giving the money to?"
Brooks said insinuations about immigrants increased instances of hate crimes and perpetuate negative, unfair perceptions of immigrants and Americans of foreign descent, noting an increase in hate crimes targeting Muslims or perceived Muslims since the 9-11 terrorist attacks.
"The ones that are good need to prove that they are good. We are to the point in this country where we can't go out and prove everyone is bad, but if you are good, prove it to us," Folse said on the newscast before recounting a tale of vendors in the local mall cheering the terrorist attacks of Sept. 11, 2001.
He denies his show fueled hatred of immigrants. At one point in the broadcast, Folse did say he does not care what country people are from and noted "We are all at one point descendants of another country. We were welcomed in this country."
"I have gone into white-owned convenience stores in Terrebonne Parish and I have been kicked out because I was doing exposés on synthetic marijuana and bath salts," Folse said in an interview. "I'm not going to be painted into a corner that I'm only going after Middle Eastern people."
Brooks argued that projecting comments about synthetic marijuana and funding of overseas terrorists onto a discussion of the dispute between McAllister and the clerk harmfully feeds prejudices. "He is creating hate," the clerk said after watching the broadcast.
On Wednesday morning, dozens of protesters gathered at the gas station carrying signs reading "support our veterans" and waving American flags to a chorus of passing car horns. The store was closed, with signs purportedly written by store management reading "Say no to racism. Long live the United States." The clerk left Houma for the day after working his evening shift Tuesday night.
"The last time I saw the American flag flying like this was 9-11," said Vietnam War Army veteran Chuck Bullock of Chauvin. "How do we know (money is not being sent to terrorists) here or other immigrant-owned stores? How do you know that money for the gas you buy is not being used for bullets to kill American soldiers?"
Most said they were there without consideration of race or religion, though slurs like "pig's blood and Muslims don't mix" were also uttered by some.
"Today, this is not about race," said Vietnam War combat veteran Roger Songe, who heads the Disabled American Veterans' local chapter. "It could have been a white person. It's just not acceptable to insult a veteran." Songe said he did get the impression Folse's initial broadcast unfairly grouped people, but "(Folse) has changed his attitude, and I understand him getting upset about this."
The store's owners said business plummeted after the show aired. Surveillance video from the store was also automatically overwritten at the end of last week.
The business owner is also standing by his clerk's word. The clerk, meanwhile, said the incident and corresponding Facebook comments skew his outlook on life in America.
"When I came to America, I felt like I went to heaven," he said. "Now I feel like people come into the store, they are going to look at me and I feel like they are hating me."
HoumaToday.com, 12 November 2014
See also "HTV's "pro-veterans" segment is patriotism to some, hate speech to others", Houma Times, 13 November 2014
"The anti-Islamic flavor was evident at the Wednesday demonstration as well. James Sargent, an oilfield business owner who served his country from 1962 to 1966, was among protesters holding a sign that read, 'This store does not support veterans.' A few words with Sargent exposed deeper resentments. 'I am doing this because I do not support un-Americans,' he said. Asked precisely what he meant by the phrase, Sargent wasted no time with his answer. 'These people. Muslims. Let's get to the point here.' Told that the people from the store are not Muslims, Sargent shrugged. 'OK, they're from the Middle East, that works for me.'"