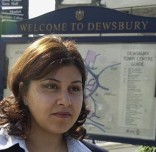 David Cameron's Shadow Minister for Community Cohesion was advised against standing in the next election because of fears that voters were not ready for two ethnic-minority candidates to stand against each other, she has disclosed.
Sayeeda Warsi, who was made a peer during Mr Cameron's reshuffle after Gordon Brown became Prime Minister, had been considering whether to stand again in Dewsbury, Yorkshire, where she was defeated by 4,615 votes by another Muslim candidate, Shahid Malik, at the 2005 election. In an interview with the Yorkshire Post, Baroness Warsi has revealed how a discussion with local Conservative officials made her think twice about standing again.
She said that in a discussion with the local Conservative party chairman, he had said: "You're the best candidate we have ever had. You would have made a fantastic MP for this town but at the moment, maybe because of the way that this community is, it still needs a bit of time on both sides." He then added: "Maybe the white community is not ready for two ethnic candidates again and also the Muslim community needs to take a long, hard look at itself."
Lady Warsi's account of the conversation, which has not been challenged, will raise concerns among Conservatives who have been trying to widen the party's appeal to the ethnic minorities.