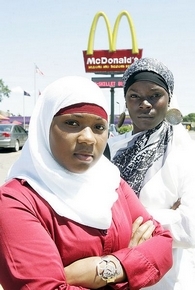 DEARBORN, MICH. — Two Muslim women say the manager of a McDonald's restaurant refused to hire them and insulted them during job interviews because they wear traditional Islamic dress.
Toi Whitfield, 20, of Detroit, and Quiana Pugh, 25, of Dearborn, filed a lawsuit Thursday in Wayne County Circuit Court against McDonald's, the owner of the local franchise and its unnamed manager. Their representative said they are considering filing civil rights complaints with the federal and state governments.
"I applied for the McDonald's position maybe two weeks ago and he simply (told me) I had to make a choice and remove my hijab, or I would not be able to establish employment there," Pugh said.
The restaurant in question sits amid one of the largest concentrations of commercial businesses for Arab-Americans in the country. Like many of the national chain fast-food establishments in the area, it has long served some halal food, which conforms to Muslim dietary requirements. "This manager must have just stepped off of some spaceship to think he can do this in this back yard, in Dearborn," said Nabih Ayad, a civil rights lawyer who represents the women.
Dawud Walid, executive director of the Council on American Islamic Relations-Michigan, said that he has eaten at McDonald's restaurants in Turkey that cater to Muslims and employ them, including numerous women who cover. "It is extremely disturbing that such discrimination could take place at a location which does not mind collecting Muslim dollars, yet places restriction on Muslim women who wear hijab."
Whitfield said the manager told her she could not wear her headscarf because, "It gets too hot back there." "I hope that they learn from their mistakes," she said. "They should not discriminate against people. Everyone should have an equal chance to work at McDonald's."