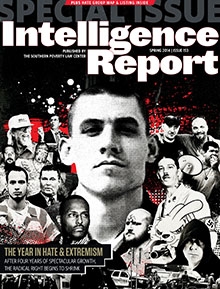 The number of radical-right hate and militia-type "patriot" groups in the United States, which peaked in 2012 after four years of explosive growth, fell significantly last year due in part to the mainstreaming of right-wing ideas, a civil rights group said Tuesday.
The Alabama-based Southern Poverty Law Center released its annual Year in Hate and Extremism report, which tallied 939 active hate groups and 1,096 patriot groups in 2013, for a total of 2,035, which the organization said remained a relatively high number historically. It represented a 14 percent decline over the 2,367 groups counted in 2012.
The drop came as mainstream politicians began co-opting more right-wing ideas into state legislation which face constitutional challenges, Mark Potok, a senior fellow at the center, said in a teleconference with reporters.
"We might be swapping terror and other criminal behavior for some really terrible laws," Potok said.
He cited as an example a law passed by the Republican Arizona state legislature last week which would allow businesses to discriminate against gay people or others on religious grounds. Republican Gov. Jan Brewer has until Saturday to decide whether to sign the bill into law and is under pressure to veto it.
The Southern Poverty Law Center defines hate groups as those with "beliefs or practices that attack or malign an entire class of people, typically for their immutable characteristics."
Race or skin color, religion and sexual orientation top the agenda for many of the groups.
Among the best-known hate groups are the white supremacist Ku Klux Klan, the anti-gay Liberty Counsel based in Orlando, the black separatist Nation of Islam, the neo-Nazi National Socialist Movement, and the American Front racist skinheads. Other groups espouse anti-immigrant, anti-Semitic, anti-Muslim, Holocaust denial and general hate views.
Three of the most populous states lead the nation in the number of hate groups in 2013, with California home to 77 hate groups, followed by Florida with 58 and Texas with 57.
Anti-government patriot groups include militias and "sovereign citizen" groups which view the federal government as part of a conspiracy to take away their guns and adopt a one-world socialist order.
The patriot movement took drew national attention in 1995 when sympathizer Timothy McVeigh detonated a truck bomb outside the federal building in Oklahoma City, killing 168 people. McVeigh was executed in 2001.
Potok said the improving economy, failure of apocalyptic prophecies to come to fruition and law enforcement crackdowns contributed to the departure of more moderate members of the right-wing groups, leaving behind a "leaner and meaner and arguably more frightening movement out there."
Mainstreaming of their ideas also sapped momentum. Potok said seven states have passed bans on the application or implementation of sharia, or Islamic law, in courts, something pursued by anti-Muslim groups. Courts have ruled such bans unconstitutional.
"While it's certainly not a good thing that state legislatures are pursuing some of these very radical ideas, to the extent that it weakens or diminishes some of these groups on the extreme right makes it more likely that they won't engage in terrorism or criminal activities," Potok said.
See also "SPLC Report: Far-right extremist groups decline but remain at near-record levels", SPLC news report, 25 February 2014