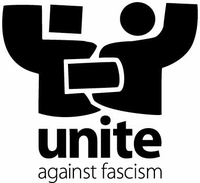 Anti-EDL demo in Manchester: Sat 10 October, 12 noon, Piccadilly Gardens
The racist hooligans of the English Defence League are planning a series of anti-Muslim demonstrations at towns and cities across the country in coming weeks. Previous EDL demonstrations have seen their thugs attack Asian people, chant "Muslims out" and worse at passers-by and make "seig heil" Nazi salutes.
It is vital that we do not sit back and allow a small minority of racist thugs with links to the fascist BNP to terrorise and intimidate Muslims in Britain. All communities need to stand up and link arms with Muslims against the EDL. That's why Unite Against Fascism called a counter demonstration against the EDL in Birmingham in August. That's why we helped mobilise thousands of people in Harrow last month to defend the local mosque against the EDL and its affiliates.
We need to turn out and tell the EDL that they are not wanted at all the following dates. We must not let these thugs turn the clock back to the 1970s when they ran round the streets terrorising black and Asian people – or back to the 1930s when Oswald Mosley's Blackshirts targeted Jews in the East End of London.
Saturday 10 October: say no to the racist EDL in Manchester
Manchester UAF has called a demonstration against the EDL at 12 noon in Piccadilly Gardens. It is supported by the Jewish Representative Council of Greater Mancheseter and the Muslim-Jewish Forum of Greater Manchester. Email mancuaf@gmail.com for more details.
Forthcoming EDL demonstrations include:
17 October: Swansea
24 October: Newport
31 October: Leeds
7 November: Nottingham
14 November: Glasgow
Local UAF groups have called protests counter demonstrations at all these places – full details to follow.