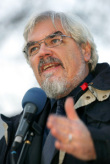 The University and College Union (UCU) has said campus relations must improve if the government is to successfully combat the spread of extremism at universities.
Speaking as the government publishes advice to lecturers on tackling radicalism, UCU joint general secretary Paul Mackney said universities and colleges needed "a robust strategy for defeating racism and Islamophobia".
"But radicalism must not be conflated with terrorism," he added. "Institutions must maintain a moderating environment where discussion flourishes, where people learn about different cultures and where ideas can be explored, challenged and debated."
UCU joint general secretary Sally Hunt agreed, saying: "Academic freedom is the key to this debate. The advice to vice chancellors can only be dealt with through collective bargaining with the trade unions who represent staff."
This advice must not mean staff and students were asked to "compromise their duty to teach or their wish to learn", she warned.
Politics.co.uk, 17 November 2006
See also UCU news, 17 November 2006
A joint statement from the National Union of Students, University College Union, Unison, the Federation of Student Islamic Societies and the Equality Challenge Unit said singling out Muslim students could "jeopardise trust and confidence between staff and students". It continued: "Any implementation should recognise that demonising Muslims is unacceptable and dangerous – whether in educational institutions or in communities. Students and staff should be assured by their institutions that there is no intention of adding to a climate of Islamophobia."
For the joint statement by the NUS, UCU, UNISON, FOSIS and ECU (pdf) click here.