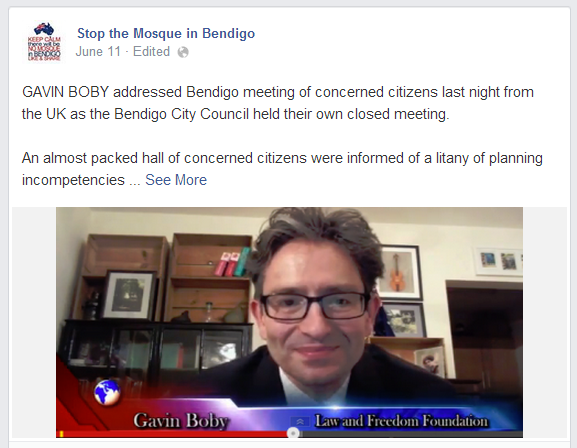 A UK adviser to opponents of a proposed mosque in Bendigo is known as a "mosque-buster" who boasts of his record of using planning laws to block mosque applications.
Gavin Boby, a British planning lawyer and director of the Law and Freedom Foundation, met Bendigo anti-mosque activists while attending an anti-Islam conference in Melbourne in March this year.
The activists, who are also behind the Stop the Mosque in Bendigo page on Facebook, said Boby provided them with "individual advice" in their campaign against the Islamic worship centre, plans for which were last week approved by the Bendigo city council.
According to Boby, the Law and Freedom Foundation helps "local neighbourhoods to resist planning applications for mosques", claiming to have successfully blocked up to 17 applications.
The foundation's website advises residents: "We call what we do empowering local communities to decide their fates … The best chance you have of stopping the establishment of a mosque in your area is to contact us at the start of the planning process."
Boby alluded to meeting the Bendigo residents on his blog, writing: "I completed my trip [to Australia] by advising a local group about a mosque proposal that appears to be something very sinister. I can't go into it now because the investigation will have to be done on the quiet."
Boby also toured Australia in late 2012 as a guest of the "Islam-critical" Q Society, which has been advising Bendigo residents fighting the mosque development. "If you want to [block mosques] yourselves, I can give you the legal guidance. The systems are similar enough, that I can do that from the other side of the world," Boby told an audience in Melbourne during that tour.
Boby addressed Bendigo residents opposed to the mosque again in May via videolink at a meeting organised by the Q Society, Fairfax Media reported.
Residents opposed to the Bendigo mosque have flagged an appeal to the development application for the site on a number of planning grounds. Their objections include allegations that the environmental assessment of the site included no soil tests; that traffic estimates failed to account for prayer times; and that statistics provided for household sizes in Bendigo were "based primarily on a Christian population and do not take into account the difference of fertility rates of Muslim families".
But activists contacted by Guardian Australia denied their campaign was based on Boby's playbook, saying their objections to the plans were the work of "local constitutional law enthusiasts". "We are just a group of local people all pulling together, each doing what they can," an organiser behind the Stop the Mosque in Bendigo campaign said.
One of the Bendigo councillors who voted against the development, Elise Chapman, said she had been sent a link to Boby's work, but maintained her arguments against the mosque were based "on the planning issues that were before me". "I've never seen [Boby's] handbook, I've never spoken to him, I've never met him," Chapman said.
---
The Stop the Mosque in Bendigo spokesperson is telling a straightforward lie when they claim that their campaign has not been inspired by Gavin Boby. In addition to emphasising the importance of Boby's video address (see illustration above) on their Facebook page, Stop the Mosque in Bendigo have raised funds to bring Boby over to Bendigo in person to give further help. And they have made no secret of the fact that their leaflet offering advice on objecting to the mosque was drawn up with Boby's assistance: