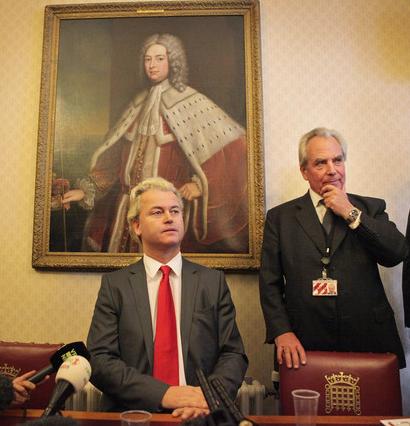 The UK Independence Party is to call for a ban on the burka and the niqab – the Islamic cloak that covers women from head to toe and the mask that conceals most of the face – claiming they affront British values.
The policy, which a number of European countries are also debating, is an attempt by UKIP to broaden its appeal and address the concerns of disaffected white working-class voters.
UKIP would be the first national party to call for a total ban on burkas, though the far-Right BNP believes they should be banned from schools.
Lord Pearson of Rannoch, the leader of UKIP, said yesterday: "We are taking expert advice on how we could do it. It makes sense to ban the burka – or anything which conceals a woman's face – in public buildings. But we want to make it possible to ban them in private buildings. It isn't right that you can't see someone's face in an airport."
Nigel Farage, the former UKIP party leader, will announce tomorrow that the party believes the fabric of the country is under threat from Sharia and that forcing women to conceal their identity in public is not consistent with traditional Britishness.
UKIP believes that the burka and the niqab have no basis in Islam, are a threat to gender equality, marginalise women and endanger the public safety because terrorists could use them to hide their identity.
---
See also the Times editorial, "Veil of ignorance", which condemns UKIP's proposal as "deeply cynical and wrong":
"They claim that the burka marginalises women. This is a new concern for UKIP. It is, after all, the party of Godfrey Bloom, the MEP who says that 'any small businessman or woman who employs a woman of child-bearing age needs their head examined'. Perhaps Mr Bloom, who thinks that women do not clean behind the fridge enough, worries that their burkas are getting in the way.
"UKIP argues further that the burka has no place in Islam and that the religion does not require it. The Times had not hitherto realised that Nigel Farage was an authority on such matters, or that the party leader Lord Pearson of Rannoch, who was visited by God when on the operating table in 1977, thereby gained not only his Christian faith but also a mastery of the Koran. This newly acquired scholarship notwithstanding, the religious insights of politicians are entirely irrelevant when judging the right of British citizens to dress as they wish."
Update:  The fascists aren't happy. See "Phony UKIP steals BNP burka policy", BNP news report, 17 January 2010