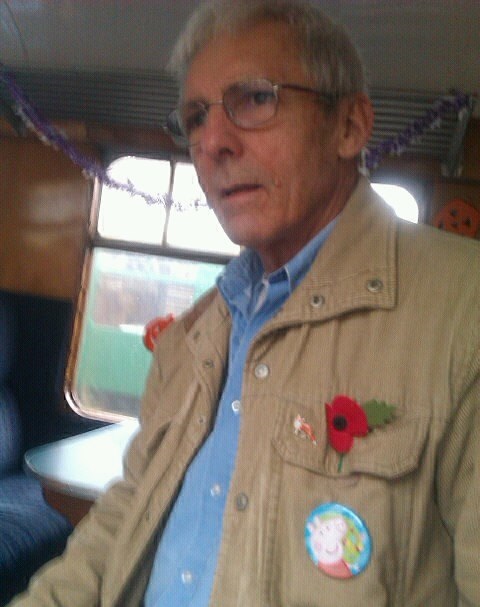 A member of Ukip has been kicked out of the party after attending a rally organised by the far right group Britain First, according to reports.
Ukip member Malcolm Jackson [pictured] said he has received a letter from the party saying his membership had been rescinded because of his "connections to Britain First" after attending their 15 November protest rally against a Mega Mosque planned for construction in Rochester.
[The new mosque will hold no more than 400 worshippers, which falls some way short of "mega", and the site is in Gillingham.]
Jackson said he is not affiliated with Britain First – which describes itself as "probably the only group experiencing growth on the far right" – and was only marching with them to protest against the "evil cult of Islam taking over yet another part of our country".
He said: "I have no connections with Britain First. I am not a member of any political organisation apart from Ukip, and I am not a member of Britain First. All I have done is take part, last Saturday 15 Nov 2014, in a march organised by Britain First, to demonstrate against a Mega Mosque being built on the borders of Rochester and Gillingham."
He added: "If I had been with the crowd of left-wing thugs opposing the march against the Mega Mosque, would Ukip have made the decision to rescind my membership?"
Ukip have tried to distance themselves from Britain First ever since three of its members were photographed with the deputy leader of the party, Jayda Fransen, while both groups were campaigning in Rochester ahead of the upcoming by-election.
The party claimed the campaigners were "duped" into appearing in the photo and have "no connection [or] any association with them". "A handful of our 200 campaigners were photographed by Britain First without understanding the nature of the group and regret that very much," a spokesperson added.
Fransen previously told IBTimes UK that Ukip's policies are "almost identical" to Britain First. She added: "They are the only party which is speaking on issues like immigration and religion. We know Ukip has to play the political game by distancing themselves from us and we understand that entirely."
Following claims one of its members has since been thrown out he group for attending one of their rallies, a Britain First spokesperson said: "We understand that Ukip has to 'jump through hoops' because like Britain First they face a hostile media apparatus. While Ukip members and activists on the streets are very supportive of Britain First, their HQ is forced to distance themselves.
"We understand and accept this on the basis that Ukip wants to keep its image clean and thus we support their policy. We do urge, however, that Ukip treats its own members with delicacy when things like this happen and not just arbitrarily expel them."
Nobody from Ukip was available to comment on the allegations when IBTimes UK tried to contact it.
International Business Times, 19 November 2014
---
Malcolm Jackson not only promoted and participated in the Britain First demonstration, he also endorsed the far-right group's call for mosque sites to be desecrated with dead pigs (see screenshot below).
Jackson's Facebook page is filled with repeated rants against "the evil cult of Islam" and links to websites run by Pamela Geller and Robert Spencer, the two US extremists who have been banned from entering the UK. Back in April he was complaining that his anti-Islam comments had resulted in him being blocked from various UKIP Facebook pages. He blamed this on the "infiltration of UKIP by an EU/Islam 5th column", as a result of which "UKIP is now the party of Islam".
Yet UKIP allowed this clearly unhinged Islamophobe to remain a member of the party until he embarrassed them by joining a fascist demonstration in Rochester. If Jackson had stuck to inciting hatred against Muslims on social media rather than on the street, he would presumably still be a member.