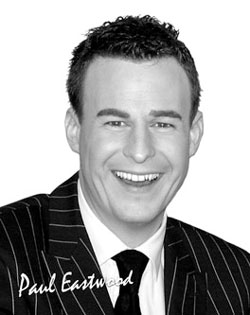 Nigel Farage and hundreds of his UKIP supporters roared with laughter – as a comic cracked a string of offensive jokes about foreigners. The party's leader clapped as Paul ­Eastwood took swipes at Indians, Muslims and Poles at a gala dinner marking the climax of its spring conference.
Referring to the Olympics, he told guests: "Poland did well. They took home bronze, silver, gold, lead, copper – anything they could get their hands on." To claps and cheers he went on: "Team Somalia – they did well, didn't they? They had to apologise. Didn't realise sailing and shooting were two different events."
Eastwood then asked: "Any Midlands people here? Wonderful! My favourite accent is a Midlands accent." He then attempted an impression of an Asian voice. Eastwood chanted an Islamic call to prayer, mocking it as a "traditional Midlands folk song".
The scenes were witnessed by Sunday Mirror investigators who joined 200 guests at the £35-a-head black-tie feast. The dinner was a chance for delegates, donors and officials to mingle after the day-long ­conference in Torquay, Devon.
Earlier our reporters were invited to an exclusive boozy bash on a £1million yacht. We listened as a UKIP backer claimed Essex was "full of Arabs".
The conference highlight for many guests was the boozy dinner where ­Eastwood cracked his offensive jokes. Despite initially moaning about "bloody political correctness" and claiming: "I'm under strict instructions about what I can and can't say tonight", he rattled off a 45-minute routine littered with stereotypes and tasteless gags.
Guests guzzled £39 bottles of Taittinger champagne as the comedian told an old gag about a lazy Slovakian cleaner and a bad-taste joke about a Muslim butcher.
See also "Farage defends jokes about foreigners at Ukip conference", Daily Telegraph, 2 March 2014
Update:  See Ava Vidal, "'It's only a joke': How far is too far in comedy?", Daily Telegraph, 6 March 2014