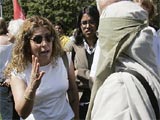 More than 300 demonstrators converged in front of the Ontario legislature Thursday in a protest against the allowance of Islamic Shariah law in the province. "Shame! Shame!" chanted members of the crowd, angry at the prospect of Ontario becoming the first Western jurisdiction to allow the use of Shariah law to settle family disputes.
Ontario Premier Dalton McGuinty said his Liberal government will decide "shortly" on whether to permit Islamic law to be used in the province's family arbitration cases. He has insisted that the rights of women will not be compromised if Shariah tribunals get the go-ahead to settle marital disputes for Muslims in the province. "Whatever we do, it will be in keeping with the values of Canadians and Ontarians," he told reporters Wednesday.
But critics consider the religious rules an affront to human rights. "What Mr. McGuinty is doing is simply flirting with political Islam," said Homa Arjomand, co-ordinator of the International Campaign Against Shariah Court on Thursday. "And that dangerous game is putting the lives and safety of women and children in danger. Shame."
Billed as a global campaign against Shariah law, demonstrations took place in 11 cities across Canada and Europe — including one in London, England in front of the Canadian High Commission.
"The leader of Ontario's government – shame on you!" said Mahmoud Ahmadi, spokesperson for the Federation of Iranian Refugees. "Shame on you!"
---
It would be interesting to know what the political composition of the demonstration was. I note that of the three anti-sharia demonstrators interviewed by CTV, two – Homa Arjomand and Shiva Mahbobi – are central committee members of that bizarre ultra-left sect, the Worker Communist Party of Iran. The third interviewee, Mahmoud Ahmadi, is a leading figure in the International Federation of Iranian Refugees, whose director Mina Ahadi is – yes, you guessed it – a central committee member of the WPI.