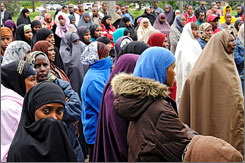 Tensions have flared between Somali workers and officials at a Colorado meatpacking plant over when employees can break for prayer during the Muslim observance of Ramadan.
Religious discord between U.S. factories and Muslim workers is nothing new, but a spokesman for the D.C.-based Council on American-Islamic Relations said he's never seen a conflict escalate to the point it has at the JBS Swift & Co. meatpacking plant in Greeley. "Usually in these cases we're able to come to an amicable solution," CAIR spokesman Ibrahim Hooper said Thursday.
The conflict in Greeley began Sept. 5, when about 220 workers, according to Swift estimates, walked out during the evening shift, blaming the company's refusal to allow their breaks to coincide with sunset so they could pray.
Swift spokeswoman Tamara Smid said 101 workers were fired, but United Food and Commercial Workers Local 7 spokesman Manny Gonzales said the number was as high as 150, based on what workers told union officials. The union filed grievances of discrimination and wrongful termination against the company Friday, Gonzales said.