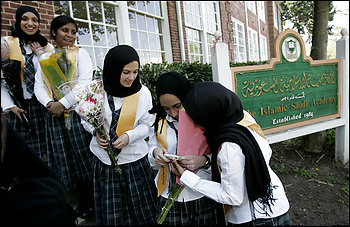 A controversial private school for Muslim children is seeking to expand a campus in Fairfax County, a proposal that has made reluctant partners of neighbors concerned with the impact on traffic and water quality and critics who oppose what they say is the school's radical agenda.
The Islamic Saudi Academy has asked the county for permission to build a state-of-the-art building on one of its two campuses, a 34-acre property near Fairfax City. The increased capacity could draw as many as 200 additional students to the 750-student campus each day, which has sparked concern among neighbors.
But at a public hearing last week, mundane neighborhood concerns were overshadowed by a longstanding dispute over the school's teachings and the perception that it promotes intolerance of other cultures.
In addition, a federal jury in 2005 convicted one of the academy's graduates, Ahmed Omar Abu Ali, of joining an al-Qaida conspiracy to kill George W. Bush. It was one fact critics seized on Wednesday in an attempt to persuade the county to reject the school's expansion plans.
"The Islamic Saudi Academy's purpose is to train young and innocent Muslim children to hate and wage war into the future against our children," James Lafferty, a spokesman for the Traditional Values Coalition, a church lobbying group, said during the hearing. His remarks prompted heckles and boos from teachers, parents and other supporters of the school.
"Don't you sometimes have people who get in trouble with the law who graduate from school who go to churches?" asked Nihad Awad, executive director of the Council on American-Islamic Relations, in an interview. "It is guilt by association, and I hope the commissioners will see that this is pure hate propaganda and driven by a political agenda."