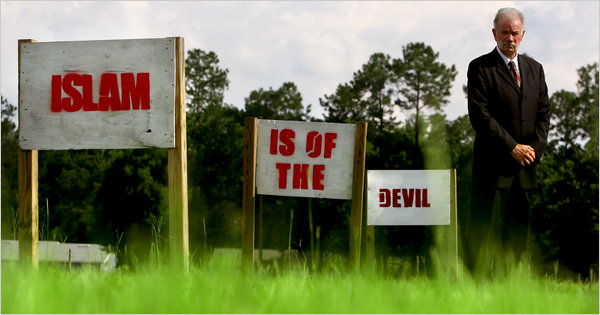 Controversial US pastor Terry Jones has been barred from entering the UK for the public good, the Home Office says. The pastor, who last year planned a Koran-burning protest in the US, had been invited to address right-wing group England Is Ours in Milton Keynes. Mr Jones told BBC Radio 5 live he would challenge the "unfair" decision and his visit could have been "beneficial".
A Home Office spokesman said: "Numerous comments made by Pastor Jones are evidence of his unacceptable behaviour. Coming to the UK is a privilege not a right and we are not willing to allow entry to those whose presence is not conducive to the public good. The use of exclusion powers is very serious and no decision is taken lightly or as a method of stopping open debate."
Mr Jones said he had not been planning to break any laws while in England. "I'm not against Muslims, we are not against their religion," he said. "We have, here in the West, freedom of religion and limited freedom of speech which we don't have in their countries. What I am against is the radical element. If I came to England we would expect Muslims to rally with us."
---
Barry Taylor, the spokesperson for England Is Ours quoted in the report, is presumably the Barry Taylor who was formerly a member of Milton Keynes BNP and stood for the far-right England First Party in the Milton Keynes Council elections in 2008. That same year Taylor was responsible for organising the annual John Tyndall Memorial Meeting, where a "gathering of white racial nationalists" celebrated the life of the late founder of the BNP. In 2009 Three Counties Unity named Taylor as part of a group of individuals who "straddle a variety of nationalist groupings, having dealings with the BNP, Nationalist Alliance, British People's Party (BPP) and lately, the England First Party". It was leaked documentswritten by Taylor which revealed links between Luton BNP and the football hooligans known as the MIGs some of whose members played a central role in launching the English Defence League. England Is Ours are currently involved in a campaign against the contruction of a new mosque in Bletchley which is headed by Milton Keynes BNP organiser and former NF supporter Kieren Trent. However, despite his readiness to work with fascists of all stripes, Taylor is not universally admired on the far right.