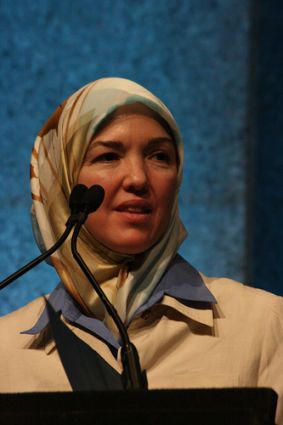 For at least the second time since last summer, those close to President-elect Barack Obama are defending the selection of the leader of a Muslim group, linked by the U.S. government to terrorists, to play a leading role in an ecumenical religious service.
Ingrid Mattson, president of the Islamic Society of North America, is one of several religious leaders scheduled to speak at the inaugural prayer service Wednesday at Washington's National Cathedral.
As WND reported in August, Mattson spoke at the Democratic National Convention's "interfaith gathering" in Denver. At the time, Fox News reported ISNA was suspected of having ties to radical terrorism worldwide and during last year's Holy Land Foundation terrorism trial was regarded as an "unindicted co-conspirator" by the U.S. government.
The government alleged documents show ISNA is supported by the Muslim Brotherhood, which has called for "jihad" against the West. Frank Gaffney of the Center for Security Policy told Fox the Muslim Brotherhood seeks "our destruction."
World Net Daily, 18 January 2009
---
Mark Pelavin, director of inter-religious affairs for the Union for Reform Judaism – another organization participating in the prayer service – called Mattson "a really important voice denouncing terrorism."
"Clearly, Dr. Mattson has been welcome throughout the government," he said. "I haven't found anyone anywhere who's found anything Dr. Mattson has said that's anything other than clearly denouncing terrorism in quite explicit Islamic terms."
Pelavin's group has a partnership with the Islamic Society to encourage members of mosques and synagogues to build ties nationwide.
Associated Press, 17 January 2009
Update:  Over at Front Page Magazine Robert Spencer of Jihad Watch claims that Ingrid Mattson is a defender of Osama Bin Laden who has "endorsed al-Qaeda's goals", is an apologist for Wahhabism and has "tried to set Jews and Christians against once [sic] another".