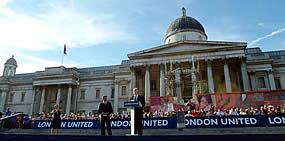 "Ken Livingstone, London's famously loose-lipped mayor, boarded a subway train here as cameras flashed, demonstrating this city's resolve not to be cowed by the terrorist attacks that struck three subways and a bus last week. 'We are going to work, we carry on our lives,' Livingstone told reporters on Monday morning before resuming his usual commute to work. 'We don't let a small group of terrorists change the way we live.' And that was all.
"Livingstone, 60, has emerged as a sort of anti-Rudolph Giuliani in the wake of the terrorist attacks, the worst the city has ever seen. He has made two solemn statements worthy of Winston Churchill, but has otherwise kept a remarkably low profile for a man whose quarter-century in politics has been marked by bold initiatives and maverick debates. There has been nothing of the post-Sept. 11 take-charge behavior that briefly catapulted Giuliani, as mayor of New York, to the national political stage.
"At last, some people are saying, 'Red Ken,' as he is known because of his outspoken liberal views, has hit the right note of humility and outrage and quiet resolve without getting anyone upset. But there may also be something else at play: Livingstone was lambasted last year for inviting an Egyptian-born, Qatari-based conservative cleric, Sheik Yousef al-Qaradawi, to London in what Livingstone's defenders say was an attempt to demonstrate to the city's disaffected, radical Muslim youth the mayor's willingness to engage in dialogue."
Or perhaps, duh, it might be because the Mayor of London has significantly fewer powers than the Mayor of New York. Or hadn't the NYT noticed that? Plus, of course, two days after this article was published the mayor addressed a 50,000-strong vigil in Trafalgar Square to commemorate the victims of the bombings – and two days after that organised the massive London United concert to celebrate the capital's diversity and protest against those who sought to destroy it.