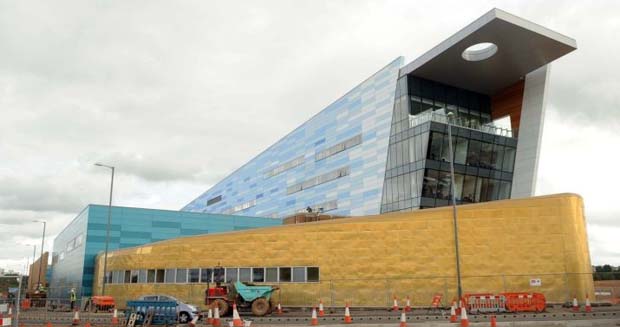 A controversial new Birmingham college has been targeted by vandals after rumours swept the area that a golden-clad part of the building was in fact a mosque.
The principal of Bournville College which has had a £66 million revamp today angrily spoke out against the "myth" and said he was baffled as to how it had come about. Norman Cave said the gold-clad wing, on the corner of Longbridge Lane and Bristol Road South, in Longbridge, was a conference centre.
He said: "I have heard that there are people within the local community spreading the rumour around that this is in fact a mosque, categorically it never has been a mosque. It has gone through planning and planning clearly identifies it as a conference centre. It doesn't even look like a mosque so how people are jumping to this conclusion I don't really know."
Mr Cave confirmed a window had been broken in the centre. He added the centre was important to the commercial future of the college, which opened this month as part of a £1 billion regeneration of the area. "It's there to generate an income for the college and also provide a facility for the community as a whole," he said.
A website run by the Kings Norton parish team referred to the "myth" of the Longbridge mosque. It links to a Facebook post which urges local people to quell the false report.
It said: "Since the rumour appeared, the building has been vandalised on several occasions. Panels have been ripped off and windows have been smashed. This is unlikely to be a coincidence. It is not a mosque. It is a business centre, as the Longbridge development's publicity clearly shows. If you live locally and are able to combat the rumour with the truth, please do so. Share, recommend or tweet this post. Talk to your neighbours and friends. You may help to prevent thousands of pounds' worth of mindless damage."